Sometimes, you can not do what you need to with either port forwarding or port triggering. For instance: Let's say you want to host multiple games on multiple PCS inside your network. The bottom line is that you have multiple devices on your network that need to use the same ports.
Unfortunately, you can only port forward the necessary ports to one of those nodes because you can only forward a given port to one IP address on your local network. In other words, one port per IP address. Since you cannot port-forward the same port to multiple devices on your network, at least one of the computers will be left with blocked ports.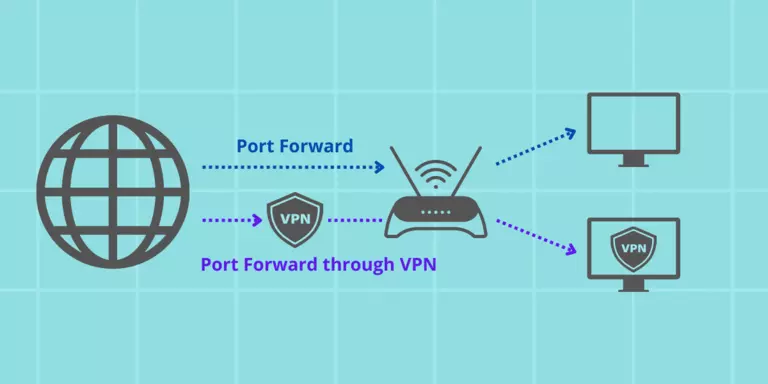 Alternatives to Port Forwarding & Fixing Problems with NAT
There are four major problems that you may run into that would require alternatives to port forwarding. Luckily there are ways around most of these problems, and your ISP should be able to work with you to resolve them.
Problem 1: There are multiple devices on your network that need to use the same ports.
When you have multiple devices on your network that require a port forward for the same ports, you have three main options available.
Port translation
Add an external IP address
Use a VPN
The easiest is port translation, and it is also free, so we'll talk about that first.
Port translation
Port translation is forwarding an external port to a different internal port. This is a great solution to trying to forward the same port twice in many situations, but it is not always available.
For instance, if you want to run multiple web servers on your network and you have control over which port your clients are connecting to, then you can use port translation to direct traffic to both web servers behind a single router. This is only possible if you have the ability to specify the port on the client's side. It works great for most webcams, torrenting, and other file sharing.
Port translation does not work for gaming consoles because you do not have the ability to specify the external port that the client connects to.
Add an external IP address
Sometimes you can add a second external IP address to your ISP-provided modem or router. This solution has a real-world cost to it. It solves the problem of running multiple devices on the same port very nicely, but not all routers and not all ISPs allow it.
This is one of the few options that work very well with gaming consoles. After setting up a second external IP address you simply forward ports from one IP address to the first console and then forward ports from the second IP address to the second console and everything works. It also does not matter which IP address is forwarded to which console because in console gaming the other players are not aware of which IP address they are connecting to.
Due to the added monthly cost, this is not an option that many users choose.
Use a VPN
A VPN can be an excellent workaround if you are unable to set up a port forward by other means.
It is important to choose your VPN provider carefully as many of them do not support port forwarding. Almost all, if not all, of the free VPN providers will not work as an alternative to port forwarding.
You know a VPN provider offers port forwarding because they list it very prominently on their features page. Assume that if they do not list it they do not offer it.
The way that a VPN solves port forwarding is a little different from the way you set it up in a router. In a router, you forward a port to an IP address. In a VPN all that you have to do is specify that you want a port to be open. Once you have set that up in your VPN, you must tell your clients to connect to the external IP address that the VPN assigns you when you connect. This IP address will change every time you connect.

Problem 2: ISP-controlled firewalls do not allow you to receive incoming connections.
Smaller ISPs sometimes go through great measures to protect their customers from the internet. Sometimes they install a firewall at their facility which ends up blocking your incoming connections. You never know if your ISP has a firewall or not, so you may have to call and ask. The big ISP providers do not usually have a firewall, and their customer service usually will not know. This is more of a problem that we see with smaller, local ISPs and municipalities.
The only solutions to an ISP firewall are:
Call the ISP and ask them to open a port in their firewall for you.
Use a VPN
Depending on the size of your ISP, you may be able to talk to somebody who knows how their network works and is willing to pinhole their firewall for you. We have seen this work for many customers, but you need to know what you are talking about before you call them. You should have in mind a list of exactly which ports you want open and why before calling your ISP. Do not be surprised if they immediately tell you 'no' because to an ISP opening ports in the firewall feels like a security risk, even though you may know otherwise.
If you cannot convince your ISP to open a port in their firewall for you, then you will need to use the VPN method discussed above. A VPN will punch out through the firewall and allow your traffic to come in through a port forward, and the ISP will not even know.
Problem 3: You are locked out of your router's port forwarding section by your ISP.
Another problem that plagues small ISPs is locking their customers out of the port forwarding section in their router. This is also common with small ISPs, but we also see it in satellite internet providers, wireless ISPs, and cellular-based data providers. If your ISP has locked you out of the port forwarding section in your router then it doesn't hurt to give them a call and ask for access. They may allow you access to the port forwarding section only after you have asked as a way of protecting their customers from accidentally setting up a port forward that they do not need. Some ISPs charge a small monthly fee for this access because they assume that you are going to allow more traffic into your network with a port forward enabled.
If they do allow you access to the router's port forwarding section, then setting up a port forward is the same as on any other router.
If your ISP does not allow you access to your router's port forwarding section, then you have to use the VPN solution listed above. A VPN with port forwarding will forward traffic to your network even though your ISP does not allow you to access the port forwarding section in your router.
Problem 4: Some mobile providers and 3g or 4g routers do not give their users the option of port forwarding.
Many cell phone hotspots do not have a section for port forwarding in them. Even if you call the ISP and ask nicely for access to the port forwarding section in your modem or router they are not able to help you because the router simply does not have a port forwarding section in the firmware. In this case, the ISP also does not have the ability to offer a more expensive service to enable port forwarding.
Your best solution, in this case, is to set up a VPN that allows port forwarding. No matter what your router firmware offers, a VPN with port forwarding will allow an incoming connection to your network.
Using a VPN Service as an Alternative to Port Forwarding
The first step is to purchase a VPN service such as Private Internet Access. To use a VPN, you need to install a VPN Client. The VPN client that you install depends heavily on the VPN provider that you choose. Many of the big-name VPN providers offer a client that is convenient and safe.
If you choose to use a free VPN be warned that installing their client may put your computer and your network at risk. Many of the free VPN providers use their client as a way of spying on your data. If you are not paying for your VPN then do not install anything offered by the free VPN provider.
You can use the VPN client provided by Private Internet Access because it makes setting up and maintaining your VPN very easy, and PIA is a well-known and trusted VPN provider.
When you connect to PIA, if you have enabled Port Forwarding, then you will receive a port forward through the PIA network.
It is important to note that when you connect to a VPN using Private Internet Access and your VPN client, you will receive a new external IP address.
Your external IP address will change every time your VPN connects unless you purchase the Permanent IP Address add-on.
Port Forwarding using Private Internet Access
Once you've activated an account with Private Internet Access, you can easily forward ports using their VPN client application.
Open the Private Internet Access application and click on the top-right menu.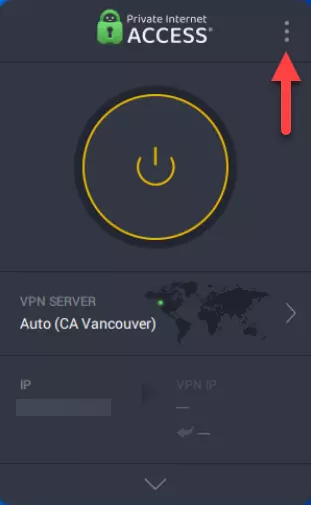 Choose the Settings menu item.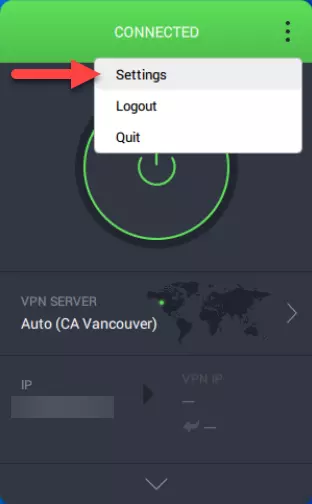 In the PIA settings menu, choose Network, then put a check box in the Request Port Forwarding box.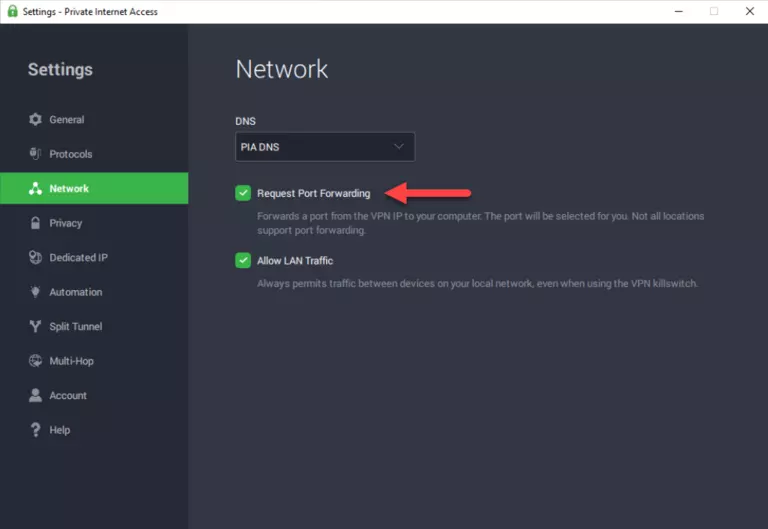 Close the settings menu, and then click the large Connect button to connect to the PIA network.
After you are connected, PIA will return your forwarded port on the main screen just under your VPN IP.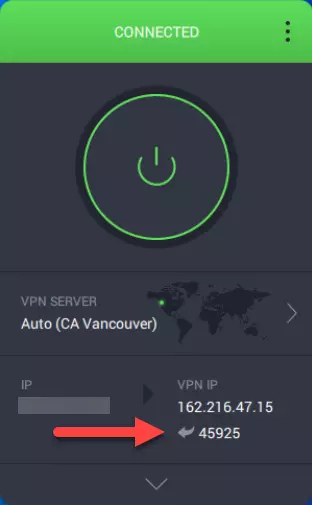 After setting up a port forward, you should start to see traffic coming into your network on the port that you forwarded.
For more information on which ports to forward for a specific application please see our List of Ports where you can find the TCP and UDP ports for virtually any application.