uTorrent is a relatively small torrent software client used to share files and data around the world. Although uTorrent is used by many, it is not always used to its full potential. Here is a guide that will help you and other uTorrenters maximize your results and increase your download speeds. There are several factors that have an effect on your download speeds and performance, and this guide will address the majority of them. Consider this a starting point to getting better torrent download speeds.
Installing uTorrent
Before you can maximize download speeds you will need to install uTorrent. If you've already installed uTorrent you may skip this step.
First, you will need to download the uTorrent Software from the uTorrent Download Page
Once on the uTorrent Download Page, download the latest version of uTorrent that is suitable for your operating system. You should have downloaded a file named "uTorrent.exe". Double click "uTorrent.exe" and you will start the installation process. After you've installed uTorrent you are ready to start optimizing.
Find your uTorrent Listening Port
The first step in getting uTorrent to work properly is finding your uTorrent Listening Port.
You can find your uTorrent listening ports by clicking Options and selecting Preferences.
Now in the Preferences dialog box, select Connection.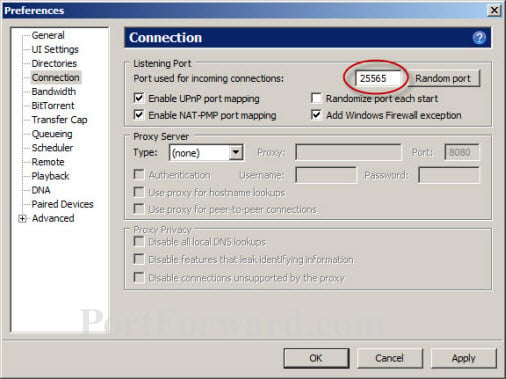 You should see your uTorrent Listening Port listed in the upper right of the Preferences dialog box. Make a note of it, because that is the port that needs to be open for uTorrent to work effectively for you. Note that each install of uTorrent uses a different port, so your port will likely be different than the one shown above. Also, Make sure that the Randomize port each start checkbox is not checked. You do not want the port that you need to forward changing each time uTorrent starts.
Check if Your uTorrent Listening Port is Open
If uTorrent is currently open, you will need to completely close it at this time. Make sure that the green uTorrent icon is not still hiding in your notification area (next to your clock). If it is, right-click on it and choose "Exit". Before moving forward to things like selecting torrents, seeders, and leachers, we need to verify that your port is open. We recommend downloading our free Open Port Check Tool to test if incoming connections are being allowed through your router on your uTorrent Listening Port.
Why the PF Port Checker?
There are many ways to check if your port is open and available around the Internet. So, why do we so strongly recommend our Open Port Check Tool? Our port checker is the best on the Internet because you will never get a false-positive result. There are many websites that have open port checker tools, but these aren't guaranteed to give you an accurate report of which ports are open. These websites only tell you if a TCP Connect was successful, and have no way of detecting if UDP packets can get through.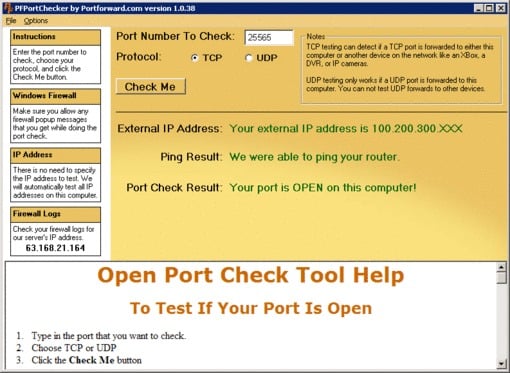 Using our Port Checker Tool, you will need to check if your specific uTorrent Listening Port is open for both TCP and UDP. Follow the steps listed on our Port Checker Help Page. If these ports are not open, you are likely behind a device that has NAT or a firewall. You will need to forward your uTorrent Listening Port to the download client that is running uTorrent.
Port Forward Your uTorrent Listening Port
If your uTorrent Listening Port does not test open, then this is the most crucial of all steps necessary to optimize your uTorrent experience.
Why do I need to forward my uTorrent Listening Port?
Port forwarding allows incoming uTorrent connections to come directly to your download client, which is exactly what you need for a peer-to-peer program like uTorrent to work correctly. Without port forwarding, those connections will be blocked by your router, and you will get a low priority from other seeds. By having your port forwarded your priority will go up and your download speed will increase drastically.
How do I forward my ports? Is it complicated?
It is our mission at PortForward.com to make port forwarding easy for everyone. You can follow our free, simple port forwarding guides, which will walk you through the process. Just choose your router from the list and we'll show you a custom guide, made especially for your router and uTorrent.
I tried following your guide, but I still need help. Is there another option? Can you do it for me?
Yes, we understand that a walkthrough isn't enough to satisfy everyone. If you don't feel like forwarding your ports manually, or can't figure out how to do it, you can purchase our PFConfig software that will do it for you. Our software comes with a 100% satisfaction guarantee. If it can't forward your ports, we'll do it for you.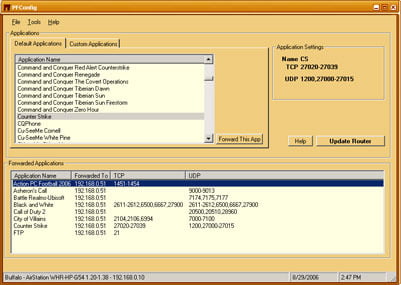 Select a Torrent Search Engine
Now that you have uTorrent installed and port forwarded, it is time to use it. The first step in using uTorrent is to download a Torrent File from a Torrent Search Engine.
At this point, we would like to take the time to say that there is a lot of illegal downloading and sharing in the torrent community, and portforward.com does not condone or advocate such action. That being said, there are many legal torrents out there that are free to enjoy. Whether the intended purpose of your torrenting is legal or illegal, the process of downloading a torrent is the same.
uTorrent is essentially a download manager in which you can manage the downloads of your .torrent files. It's important to note that when you are looking for torrents, you are looking for .torrent files. Many Torrent Engines will also give you the opportunity to download certain files directly. Do so at your own risk. Whenever you download from a Torrent Engine you run the risk of downloading viruses and other malware. On the flip side, torrent communities tend to do well in verifying good torrents as clean and complete, and I'll show you what to look for later in this guide.
What is a Torrent Search Engine and where should I download my torrents?
Torrent engines are the websites that you will use to search for and potentially download your torrents. There are many fully functioning torrent engines on the Internet. Here are 10 of the top torrent search engines in no particular order:
Select a Torrent to Download based on Seeders, Leachers, and Verification
Once you've settled on a torrent search engine, the next step is to find a torrent to download. In this guide, we use The Pirate Bay to search for a free Linux distribution called CentOS.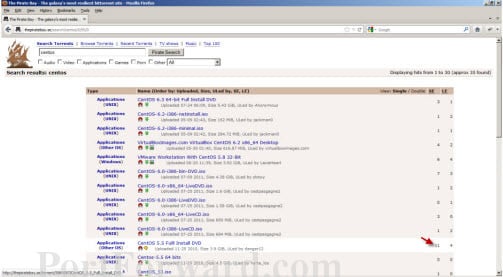 click for larger image
Notice that we select a torrent that has multiple Seeders and limited Leechers. When sifting through your potential torrent downloads, use discretion to select a torrent file that has as many seeders as possible while maintaining a seeder to leecher ratio that favors the seeders.
In The Pirate Bay, you can click the "SE" at the top of the seeders column and sort by seeders. That way the best-seeded torrents jump to the top.
What is a Seeder?
Torrenting is in fact file sharing and seeders are the people doing the sharing. Sharing is caring and it is what makes torrenting work. Without seeders, there would be no files to download. It is an unspoken rule in the torrent community that if you download, you also seed. The more seeders per file, the faster you will be able to download.
What is a Leecher?
Leechers are the people who are currently downloading. The more leechers there are in relationship to seeders, the slower your download will be.
How can I tell if a Torrent is Verified?
Many torrent search engines take advantage of their user base and promote communication about the files that are downloaded. If a lot of people say that the torrent that they downloaded is good, then a torrent search engine might flag that torrent as a verified torrent. In general, you are much better off downloading a verified torrent than an unverified torrent, or one with bad reviews. The basic premise is that you want to look for torrents that have the community behind them.
Download your Torrent
You are finally ready to download your torrent. You've identified your uTorrent listening port and port forwarded accordingly. You've done your research, selected a torrent search engine, and have concluded on a torrent file to download based on Seeders, Leechers and Verification.
You have two options for downloading your torrent: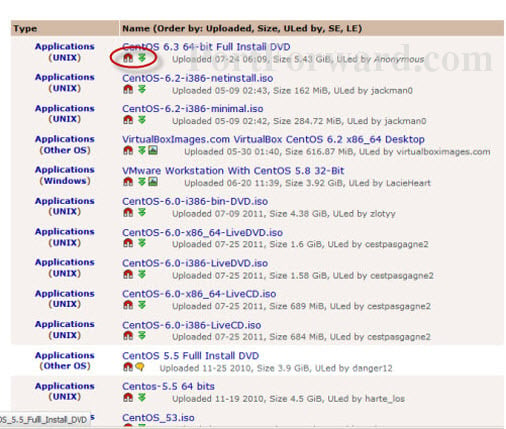 Click the green "arrow" link to download the .torrent file, which your browser will download and optionally launch. If it is bound to your torrent software then the torrent will begin downloading. Or...
Click the "magnet" link, which is a registered MIME type and will launch uTorrent directly.
What is the difference between Torrent files and Magnet files?
.torrent files have the advantage of being emailable and saveable but have the disadvantage of having the tracker info inside them. If the tracker goes down then the .torrent file is dead
"Magnet" files have a distributed tracker system so they tend to work more often. However, they can not be saved or emailed as easily.
The world is switching to "magnet" files for most torrents. However, .torrent files will be around forever because of their usefulness.
What is a Torrent Tracker?
A Torrent Tracker is a specially configured server designed to assist in the communication between download clients sharing torrents. Torrent clients, like uTorrent, are required to communicate with a torrent tracker in order to initiate a download. Torrent trackers are the glue that holds the torrent world together.
Wait for your Download to Complete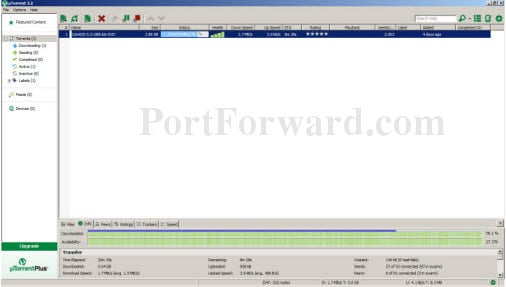 click for larger image
Yes my friends it's as easy as that.
Kick back and relax as your downloads come to you.

uTorrent will even notify you when your torrent is finished downloading.
Keep in mind that torrent files are a common source of virus infection. You should always scan any file downloaded over a peer-to-peer network with an up-to-date virus scanner. The most common source of infection is through EXE and ZIP files. You should exercise extreme caution with these types of files.
Use a VPN When you Torrent
Are you using a VPN with your torrent client? If not, you really should be. A VPN solves many of the issues surrounding torrents, including:
A VPN hides your identity from other torrenters and from your ISP.
A VPN increases your torrent download speeds by preventing your ISP from throttling your download speeds.
A VPN allows you to improve your seed ratio by allowing incoming connections to your torrent client.
We use and recommend Private Internet Access because it is fast, secure, and highly reliable.

With Private Internet Access you get full speed access to your torrent downloads because they offer a free port forwarding option that you can point at your torrent download client. For more help see How To Port Forward with Private Internet Access.