Applications that start with P
This is a list of all applications that we know of that start with the letter P.
Below is our growing index of Port Forwarding Ports. Select the application that you are forwarding from the list. We will remember the application or game that you select, and use it later on our site to present exact instructions for your router.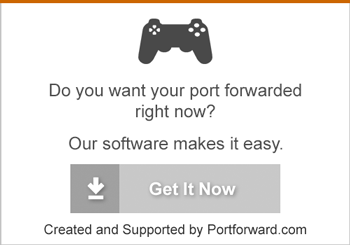 For a list of all applications and games on a single page, visit Port Forwarding Ports List. (Note: This link may not load on all browsers because it is so long)
A| B| C| D| E| F| G| H| I| J| K| L| M| N| O| P| Q| R| S| T| U| V| W| X| Y| Z
Pacer Steam
TCP
27015-27030, 27036-27037
UDP
4380, 27000-27031, 27036
Painkiller: Hell & Damnation
TCP
7777-7778, 8777, 8888, 9777, 13000, 14001, 27015, 41765-41766
UDP
7777-7778, 8777, 8888, 9777, 13000, 14001, 27015, 41765-41766
PalTalk
TCP
2090, 2091, 2095
UDP
2090, 2091
Path of Exile Steam
TCP
6112, 8095, 12995, 20481, 27015-27030, 27036-27037
UDP
4380, 27000-27031, 27036
Pathway Steam
TCP
27015-27030, 27036-27037
UDP
4380, 27000-27031, 27036
Payday 2 Steam
TCP
9899, 27015-27030, 27036-27037
UDP
4380, 9899, 27000-27031, 27036
PhoneFree
TCP
1034-1035, 2644, 8000
UDP
1034-1035, 9900-9901
Pig Eat Ball
TCP
27015-27030, 27036-27037
UDP
4380, 27000-27031, 27036
Pikmin Wii
TCP
6667, 12400, 28910, 29900, 29901, 29920
UDP
1-65535
Pikmin 2 Wii
TCP
6667, 12400, 28910, 29900, 29901, 29920
UDP
1-65535
Pinbrawl
TCP
27015-27030, 27036-27037
UDP
4380, 27000-27031, 27036
Pine Steam
TCP
27015-27030, 27036-27037
UDP
4380, 27000-27031, 27036
Pine Switch
TCP
6667, 12400, 28910, 29900, 29901, 29920
UDP
1-65535
Pit People
TCP
27015-27030, 27036-27037
UDP
4380, 27000-27031, 27036
Pixel Gear
TCP
27015-27030, 27036-27037
UDP
4380, 27000-27031, 27036
PKR
TCP
8018, 8021, 58019, 51330-51339, 52330-52339
UDP
Planet 51 Wii
TCP
6667, 12400, 28910, 29900, 29901, 29920
UDP
1-65535
PlanetSide 2 Steam
TCP
27015-27030, 27036-27037
UDP
4380, 5062, 20040-20199, 27000-27031, 27036
PlayStation Network
TCP
80, 443, 465, 983, 1935, 3478-3480, 5223, 10070-10080
UDP
3478-3479, 3658, 10070
Pode Switch
TCP
6667, 12400, 28910, 29900, 29901, 29920
UDP
1-65535
Poly Universe
TCP
27015-27030, 27036-27037
UDP
4380, 27000-27031, 27036
Ponpu Steam
TCP
27015-27030, 27036-27037
UDP
4380, 27000-27031, 27036
Ponpu Switch
TCP
6667, 12400, 28910, 29900, 29901, 29920
UDP
1-65535
Portal 2
TCP
27014-27050
UDP
3478, 4379-4380, 27000-27030
Prison Architect
TCP
843, 4530-4531, 4533, 6060-6061, 6063, 9090-9091, 9093, 19090-19091, 19093
UDP
5055-5056, 5058, 27000-27002
Prison Architect Playstation 4
TCP
843, 1935, 3478-3480, 4530-4531, 4533, 6060-6061, 6063, 9090-9091, 9093, 19090-19091, 19093
UDP
3074, 3478-3479, 5055-5056, 5058, 27000-27002
Prison Architect Steam
TCP
843, 4530-4531, 4533, 6060-6061, 6063, 9090-9091, 9093, 19090-19091, 19093, 27015-27030, 27036-27037
UDP
4380, 5055-5056, 5058, 27000-27031, 27036
Prison Architect Switch
TCP
843, 4530-4531, 4533, 6060-6061, 6063, 6667, 9090-9091, 9093, 12400, 19090-19091, 19093, 28910, 29900-29901, 29920
UDP
1-65535
Prison Architect Xbox 360
TCP
843, 3074, 4530-4531, 4533, 6060-6061, 6063, 9090-9091, 9093, 19090-19091, 19093
UDP
88, 3074, 5055-5056, 5058, 27000-27002
Prison Architect Xbox One
TCP
843, 3074, 4530-4531, 4533, 6060-6061, 6063, 9090-9091, 9093, 19090-19091, 19093
UDP
88, 500, 3074, 3544, 4500, 5055-5056, 5058, 27000-27002
Prodeus Steam
TCP
27015-27030, 27036-27037
UDP
4380, 27000-27031, 27036
Project CARS
TCP
8766, 27015-27030, 27036-27037
UDP
4380, 8766, 27000-27031, 27036
Project CARS 2
TCP
8766, 27015-27030, 27036-27037
UDP
4380, 8766, 27000-27031, 27036
Pyre
TCP
27015-27030, 27036-27037
UDP
4380, 27000-27031, 27036