This Westell A90-750015-07 router includes a basic firewall that protects your home network from unwanted Internet access. Very basically the firewall works by blocking unauthorized connections to and from the Internet. Some online games and programs will run much smoother if you open additional connections. This process of opening more connections is called a port forward.
In this guide, I will show you how to port forward on the Westell A90-750015-07 router. The steps I will show you are:
How to setup a static IP address on either your computer or device that you want to forward a port to.
Login to your Westell A90-750015-07 router.
Navigate to the port forwarding section.
Create a port forward entry.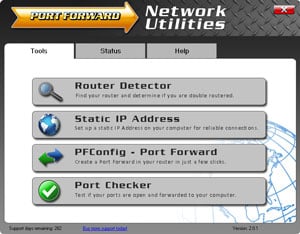 We think that forwarding a port should be easy. That's why we created Network Utilities. Our software does everything that you need to forward a port.
When you use Network Utilities you get your port forwarded right now!
Step 1
It is important to setup a static ip address in the device that you are forwarding a port to. This ensures that your ports will remain open even after your device reboots.
Recommended - Our free program will setup a static IP address for you.
Download Network Utilities today!


Or follow our Static IP Address guide to setup a static IP address.
Write this address down, you need it a little later in the guide.
Step 2
We are now going to login to the Westell A90-750015-07 router. This router has a web interface, meaning you need to use a web browser to login. It normally doesn't matter which browser you decide to use. I recommend picking one you are familiar with such as Chrome, Internet Explorer, Safari, or Firefox.
Now we are going to login to your Westell A90-750015-07 router. Your router has a web interface, so you will login to
Open up your web browser and find the address bar. It should look something like this:

192.168.1.1
As you can see in the image above, I have circled the address bar for you. Simply replace what is in the address bar with the Westell A90-750015-07 IP address. The router's IP address can also be called the computer's default gateway.
---
---
By default the Westell A90-750015-07 IP address is: 192.168.1.1
---
---
After entering the IP address of your router you can simply press enter. If all goes well you will see the following screen: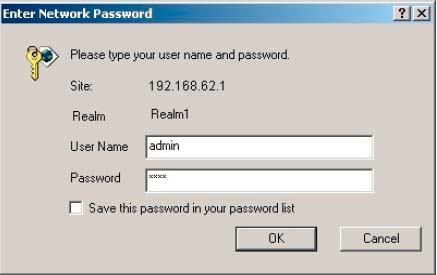 If you do not get an authentication box asking for a username and password, you need to figure out what the router's IP address is currently. To do this follow the directions on the How To Find Your Router's IP Address page.
---
---
The Default Westell A90-750015-07 Router Username is: admin
The Default Westell A90-750015-07 Router Password is: password
---
---
Enter your username and password, and then click the OK button to log in to your Westell A90-750015-07 router.
Westell Usernames and Passwords
If your username and password do not work then please visit our Default Westell Router Passwords page.
Another option is to use our Find Password App to help you guess what the username and password have been changed to.
If you still can't login to your router because you forgot your Westell A90-750015-07 router username and password, use our How to Reset a Router Password guide to set your Westell A90-750015-07 router back to its factory settings.
Step 3
Now we need to find the port forwarding section of your router. Here's how you do it. Starting from the Main page in your router:

First, click the Firewall Settings option at the top of the page.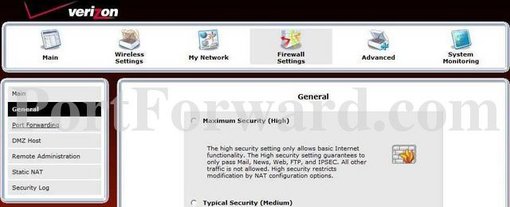 Now, click the port forwarding option in the left sidebar.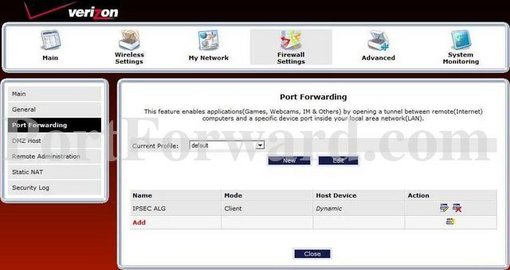 Then select the Add link at the bottom of the page.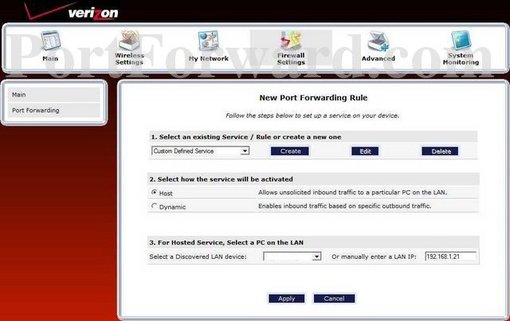 On the page you see above, select Custom Defined Service from the Select an Existing Service / Rule drop down box.
Then click the Create button.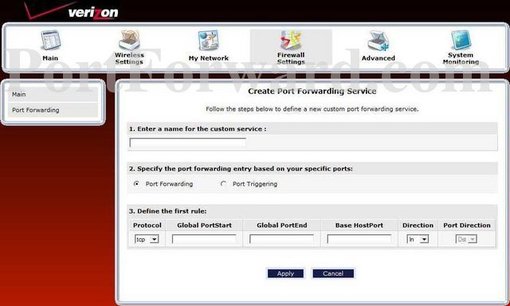 You should now be on the correct page to make a port forward. Notice that in this router a port forward is called a "port forward service".
Step 4
Now we are ready to enter some data in your router. In order to show you exactly how to configure your router we need you to answer two questions:
| | |
| --- | --- |
| Application | : |
| IP Address | : |
(Make sure the IP address box above contains the static IP address you created in Step 1.)
This next section is our router simulator. It shows you exactly what data to enter in your router based on the choices given above. Currently we are showing the ports for XBox Live. If this is correct, simply fill in the boxes in your router as you see them below: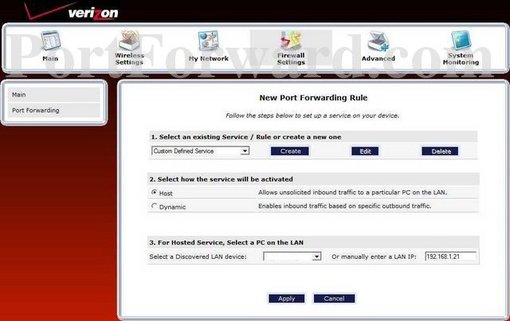 After clicking Apply it should take you to the page you see above.
Select the service you just created from the Select a Service/Rule drop down box.
Put a dot in the Host radio button
Choose the device you are forwarding these ports to from the Select a Discovered LAN Device drop down box.
Click the Apply button at the bottom of the screen to save your changes.
Test if Your Ports are Open
Now that you have forwarded ports on the Westell A90-750015-07 you should test to see if your ports are forwarded correctly.
To test if your port has been properly forwarded, you can use our Network Utilities tool, which includes a free Open Port Checker. Our Open Port Check tool is the only online port checking tool with Guaranteed Results.
More Information
Check out our other guide topics here. We have networking, software, and gaming guides.
More at setuprouter.com