Mythforce is Aspyr Media's First-Person, Action, Adventure, and Role-Playing game released in 2022.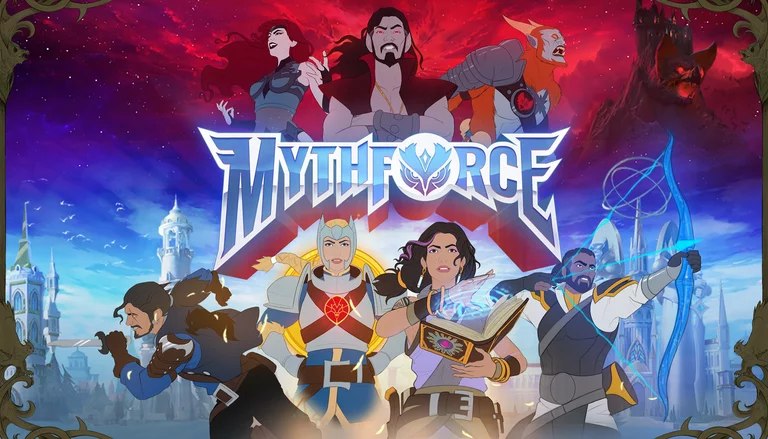 Mythforce offers the following styles of gameplay.
First person games are played from the perspective of the player. They typically have a gun or other weapon held out in front, but this is not always the case. Many first person games are sometimes called "shooters" because the primary goal of the game is to shoot other players or creatures, but this is not always the case.
Action games are usually a bit faster than other games and require quick reflexes. You frequently jump platforms, shoot enemy mobs, climb ladders, and
In an adventure game you generally play through a story, usually as the protagonist. They rely heavily on story telling and can be inspired from books or movies.
In a role playing game, or RPG, the player takes on the role of the main character and helps the story line to unfold. It usually involves a very long play time, inventory management, and a deep leveling system. RPG's are usually the longest style of game. Skyrim and Fallout are amongst the most popular RPG style games.
Port Forward Mythforce
Mythforce is a multiplayer game which means that it will probably need open ports. It's pretty common to have strange connection issues get fixed when you forward a port for a multiplayer game. We are still searching for the incoming connection ports for Mythforce. Before we can forward ports for Mythforce we need to figure out which ports to forward. We can do this together.
Download our free software Port Forward Network Utilities and install it.
After installing it launch Network Utilities and click Port Finder.
The Port Finder will help you find the game that you are interested in playing. Follow its instructions closely.
The specific ports will be added to our site as soon as a site admin reviews them.
Ports To Forward for Mythforce
Usually a game will only open up the port in "listen mode" when it's needed. This means you'll have to put your game into some sort of multiplayer mode in order for us to detect the necessary ports properly. We'll watch the game running and look for which ports it opens up to see which ports might need to be forwarded.
Usually games will use the same port every time they are launched so we only need to collect this port data once. Some games and applications use a random numbered port at each launch and we'll only be able to figure that out over multiple runs possibly even from multiple different users.
Some games will listen on a incredibly large range of ports which can be very hard to detect. By having many different people run the Port Finder for the same game multiple times we can figure out the entire range of ports that are needed for that particular game. Everybody who runs the Port Finder helps add to the database.
How To locate Ports for Mythforce
Here's a quick summary of what the Port Finder application will do:
Look at which ports Mythforce has open in "listen" mode. These are the specific ports for Mythforce.
Watch which ports open and close as you run the game and try to join a multiplayer match.
Package up the network ports in a neat little package and send it to our server for sharing.
Our servers will collect all of the connection ports used by multiple users and intelligently combine them into a single list of ports required. Then we will use this list to help other people know what to forward.
Once people submit ports for Mythforce they will be added to this page and the rest of our site.