Applications that start with R
This is a list of all applications that we know of that start with the letter R.
Below is our growing index of Port Forwarding Ports. Select the application that you are forwarding from the list. We will remember the application or game that you select, and use it later on our site to present exact instructions for your router.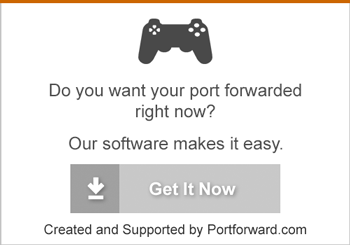 For a list of all applications and games on a single page, visit Port Forwarding Ports List. (Note: This link may not load on all browsers because it is so long)
A| B| C| D| E| F| G| H| I| J| K| L| M| N| O| P| Q| R| S| T| U| V| W| X| Y| Z
R.U.S.E.
TCP
25150-25199, 27014-27050
UDP
3478, 4379-4380, 25150-25199, 27000-27030
Rad Steam
TCP
27015-27030, 27036-27037
UDP
4380, 27000-27031, 27036
Rad Switch
TCP
6667, 12400, 28910, 29900, 29901, 29920
UDP
1-65535
Radiant One
TCP
27015-27030, 27036-27037
UDP
4380, 27000-27031, 27036
Radiis
TCP
27015-27030, 27036-27037
UDP
4380, 27000-27031, 27036
Raft Steam
TCP
27015-27030, 27036-27037
UDP
4380, 27000-27031, 27036
Rage
TCP
27015-27030, 27036-27037
UDP
4380, 27000-27031, 27036
Rage 2 Steam
TCP
27015-27030, 27036-27037
UDP
4380, 27000-27031, 27036
Raiden Steam
TCP
27015-27030, 27036-27037
UDP
4380, 27000-27031, 27036
Razed
TCP
27015-27030, 27036-27037
UDP
4380, 27000-27031, 27036
Razed Switch
TCP
6667, 12400, 28910, 29900, 29901, 29920
UDP
1-65535
Röki Steam
TCP
27015-27030, 27036-27037
UDP
4380, 27000-27031, 27036
Röki Switch
TCP
6667, 12400, 28910, 29900, 29901, 29920
UDP
1-65535
Realm Royale Steam
TCP
9000-9999, 27015-27030, 27036-27037
UDP
4380, 9002-9999, 27000-27031, 27036
Red Dead Online Steam
TCP
27015-27030, 27036-27037, 30211-30217
UDP
4380, 6672, 27000-27031, 27036, 61455-61458
Redout Steam
TCP
27015-27030, 27036-27037
UDP
4380, 27000-27031, 27036
Redout Switch
TCP
6667, 12400, 28910, 29900, 29901, 29920
UDP
1-65535
Reigns Steam
TCP
27015-27030, 27036-27037
UDP
4380, 27000-27031, 27036
Remember Me
TCP
27015-27030, 27036-27037
UDP
4380, 27000-27031, 27036
Rest in Jelly
TCP
27015-27030, 27036-27037
UDP
4380, 27000-27031, 27036
Retroids
TCP
27015-27030, 27036-27037
UDP
4380, 27000-27031, 27036
Revo DVRNS
TCP
8016, 8116, 8200, 10019, 12088
UDP
8016, 8116, 8200, 10019, 12088
RICO Steam
TCP
27015-27030, 27036-27037
UDP
4380, 27000-27031, 27036
RICO Switch
TCP
6667, 12400, 28910, 29900, 29901, 29920
UDP
1-65535
Ride Steam
TCP
27015-27030, 27036-27037
UDP
4380, 27000-27031, 27036
Ride 2 Steam
TCP
27015-27030, 27036-27037
UDP
4380, 27000-27031, 27036
Ride 3 Steam
TCP
27015-27030, 27036-27037
UDP
4380, 27000-27031, 27036
Ride 4 Steam
TCP
27015-27030, 27036-27037
UDP
4380, 27000-27031, 27036
Rime Switch
TCP
6667, 12400, 28910, 29900, 29901, 29920
UDP
1-65535
Rising Storm Steam
TCP
8075, 27015-27030, 27036-27037, 28902
UDP
4380, 7757-7758, 7767, 20610, 27000-27031, 27036, 28902
RIVE Steam
TCP
27015-27030, 27036-27037
UDP
4380, 27000-27031, 27036
RIVE Switch
TCP
6667, 12400, 28910, 29900, 29901, 29920
UDP
1-65535
Robo Recall
TCP
3478-3479, 5060, 5062, 6250, 12000-65000
UDP
3478-3479, 5060, 5062, 6250, 12000-65000
Rock Band Wii
TCP
6667, 12400, 28910, 29900, 29901, 29920
UDP
1-65535
Rome: Total War
TCP
3783, 6500, 6515, 6667, 13139, 18321, 27750, 27900, 28900, 29900-29901
UDP
6515, 8871, 13139, 18321, 27750, 27900
Rory McIlroy PGA TOUR Xbox One
TCP
53, 80, 443, 3074, 9988, 10000-20000, 17503-17504, 42120, 42210, 42230, 44125, 44225, 44325
UDP
53, 88, 500, 3074, 3544, 3659, 4500, 10000-20000, 17503-17504
Rory McIlroy PGA TOUR Playstation 4
TCP
80, 443, 1935, 3478-3480, 9988, 10000-20000, 17503-17504, 42120, 42210, 42230, 44125, 44225, 44325
UDP
3478-3479, 3659, 10000-20000, 17503-17504
Rune II Steam
TCP
7777-7781, 27015-27030, 27036-27037
UDP
4380, 7777-7781, 27000-27031, 27036
Runner2 Steam
TCP
27015-27030, 27036-27037
UDP
4380, 27000-27031, 27036
Runner3 Steam
TCP
27015-27030, 27036-27037
UDP
4380, 27000-27031, 27036
RUSE
TCP
25150-25199, 27014-27050
UDP
3478, 4379-4380, 25150-25199, 27000-27030
Rust
TCP
28015-28016
UDP
28015-28016
Rust Steam
TCP
27015-27030, 27036-27037, 28015-28016
UDP
4380, 27000-27031, 27036, 28015-28016
Rust Xbox One
TCP
3074, 28015-28016
UDP
88, 500, 3074, 3544, 4500, 28015-28016