All the Sagem Fast 2404 routers have a basic firewall installed that helps protect your home network from unwanted Internet access. This firewall works by blocking all incoming and outgoing connections unless told differently. Some online gaming or programs need some additional connections (ports) opened for a better experience. To do that you need to create a port forward that forwards the ports directly to a specific device on your home network.
In this guide we will be showing you how to create a port forward on the Sagem Fast 2404 router. These steps are:
Setting up a Static IP address for the exact device you are forwarding these ports to.
Logging into the Sagem Fast 2404 router.
Finding the port forwarding section of the router.
Setting up a port forward entry.

We think that forwarding a port should be easy. That's why we created Network Utilities. Our software does everything that you need to forward a port.

When you use Network Utilities you get your port forwarded right now!

Step 1

It is important to setup a static ip address in the device that you are forwarding a port to. This ensures that your ports will remain open even after your device reboots.
Recommended - Our free program will setup a static IP address for you.
Download Network Utilities today!


Or follow our Static IP Address guide to setup a static IP address.
TIP: We recommend writing this Static IP address down. You need it a little later in Step 4.
Step 2
Now let's login to the Sagem Fast 2404 router interface. To do this you need to open a web browser. It normally doesn't matter which browser you decide to use. I recommend picking one you are comfortable with such as Chrome, Internet Explorer, or Firefox.
Upon opening the web browser, find the address bar. It will look something like this:

192.168.1.1
In the picture above the address bar has 192.168.1.1 in it. All you need to do is replace the contents of the address bar with the router's IP address. Remember the router's IP address can also be called the computer's default gateway or the router's GUI address.
---
---
By default the Sagem Fast 2404 IP address is: 192.168.1.1
---
---
After entering the IP address of your router you can simply press enter. If all goes well you will see the following screen: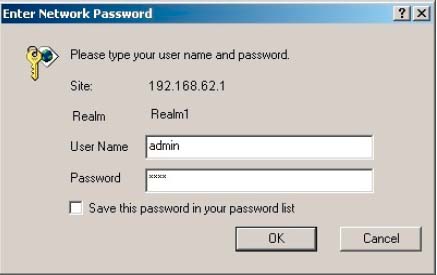 IMPORTANT: If you are not given an authentication window like the one above, or are told the site cannot be reached the IP address that was entered was incorrect. It is possible you changed the router's IP address and don't remember what it was changed to. In order to find out what the correct IP address is follow the instructions on this page.
You should see a box prompting you for your username and password.
---
---
The Default Sagem Fast 2404 Router Username is: admin
The Default Sagem Fast 2404 Router Password is: admin
---
---
Enter your username and password, and then click the OK button to log in to your Sagem Fast-2404 router.
Sagem Usernames and Passwords
This is a common place to get stuck. Here are a few things you can try:
Most likely the username and password are incorrect. If you have a slightly different firmware version then the username and password could be different. Try other Sagem username/password combinations. Here is our list of Default Sagem Router Passwords.


If that did not work, the password was probably changed in the past for security reasons. This is a good idea and highly recommended when setting up a wireless home network, however problems arise when you forget what you changed it to. Our Router Password Cracker will help you with this. Go ahead and give it a try, it makes owning a router a lot easier.


Finally if all else fails you may need to consider a factory reset for your Sagem Fast 2404 router. This is not recommended unless you have exhausted all other troubleshooting ideas. A factory reset erases all your previous changes. A full reconfiguration is required after a factory reset. To learn more about resetting a router, read this How to Reset a Router page.
Step 3
It is time to find the port forwarding section of the router interface. To help you with this, we begin on the Status page.

Begin by clicking the NAT option in the left sidebar.
Then select Port Forwarding from the sub-menu.
<

Now, select Add from the center section of the page.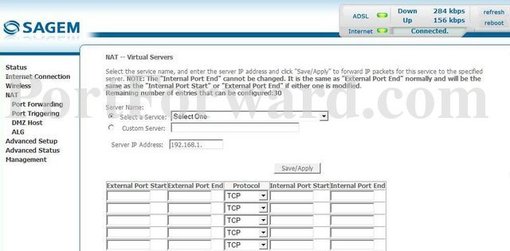 Step 4
In this fourth and final step you actually enter the port forwarding information in the router. In order for us to show you exactly how to do this, answer the following two questions:
| | |
| --- | --- |
| Application | : |
| IP Address | : |
(That Static IP address you setup in the first step goes here.)
Our router simulator below shows you exactly what data to enter in the router based on the choices you made above. Currently we are showing the ports for XBox Live. If this is correct, simply fill in the boxes as you see them below.
When you're finished, click Apply near the bottom of the screen to save your changes.
Test if Your Ports are Open
Now that you have forwarded ports on the Sagem Fast 2404 you should test to see if your ports are forwarded correctly.
To test if your port has been properly forwarded, you can use our Network Utilities tool, which includes a free Open Port Checker. Our Open Port Check tool is the only online port checking tool with Guaranteed Results.
Additional Info...