Did you know your 2wire 2701HG router has a basic firewall to help protect your home network from unwanted access coming from the Internet? This is what a firewall does. By design a firewall blocks all incoming and outgoing connections. This, of course, makes it impossible to use the Internet, so by default some of the connections have been opened to allow Internet use.
When you want to open additional connections this is called opening a port. This is done when you want an application to run smoother or a game to have less lag. This process of opening a port is more frequently called a port forward.
The basic process to opening a port is:
Setup a static ip address on your device you want to forward a port to.
Login to your 2wire 2701HG router.
Navigate to the port forwarding section.

Click the Firewall button.
Click the Firewall Settings button.
Use the Select a computer to select the device to forward ports to.
Click the Add a new user-defined application link.

Create a port forward entry.
Don't panic, we will walk you through each one to get your ports forwarded.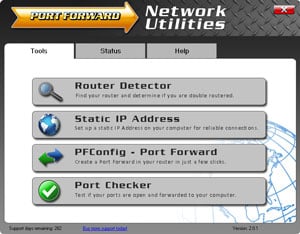 We think that forwarding a port should be easy. That's why we created Network Utilities. Our software does everything that you need to forward a port.
When you use Network Utilities you get your port forwarded right now!
Step 1
It is important to setup a static ip address in the device that you are forwarding a port to. This ensures that your ports will remain open even after your device reboots.
Recommended - Our free program will setup a static IP address for you.
Download Network Utilities today!


Or follow our Static IP Address guide to setup a static IP address.
Step 2
It is now time to login to the 2wire 2701HG router. To do this you need to use a web browser because your router uses what is called a web interface.
When choosing a web browser, it does not matter what one you choose. Some common web browsers include Chrome, Firefox, Internet Explorer, and Edge. It shouldn't matter what web browser you use, so go ahead and pick an obscure one if you want and prove us wrong.
After opening the web browser of your choice, find the address bar. This is typically found at the top of the page like this:

192.168.1.254
Do you see the address bar? It's at the top and has the numbers 192.168.1.254 in it. All you need to do now is replace what is in the address bar with the router's IP Address. A router's IP Address can also be referred to as the computer's default gateway. If you have changed your router's IP address in the past and don't remember what you changed it to, check out our How to Find Your Router's IP Address guide.
By default the 2wire 2701HG router's IP Address is: 192.168.1.254
After you have finished entering the router's IP address simply click the enter key. You should then see a page like this: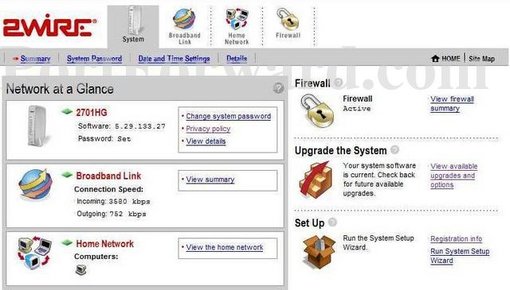 By default there is no login username or password needed to access the web interface. This means anyone within your home network can make changes to your router. This is inadvisable, we recommend creating a unique username and password for your web interface.
If you are presented with a screen asking for a password then you have changed it in the past. If you don't remember what that username or password is then we suggest trying our Find Password App. It helps you figure out your lost password on your home network.
Step 3
It is time to find the port forwarding section of the router. To do this let's start on the first page after accessing the router: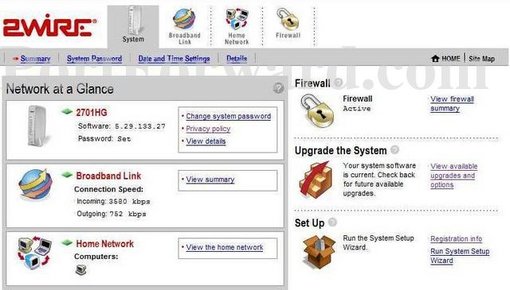 First, click the Firewall option at the top of the screen.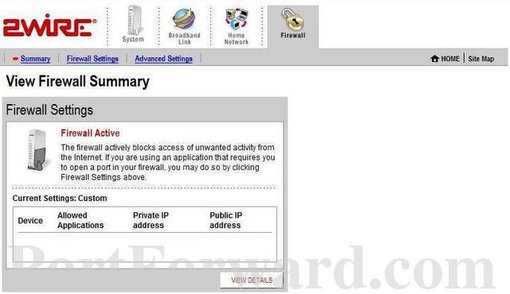 Next, click the Firewall Settings button in the smaller sub-menu.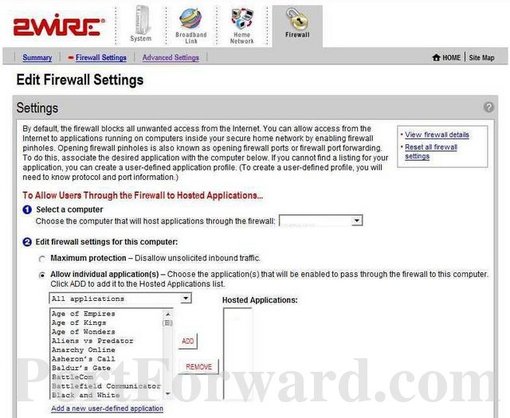 You should now see a page similar to the one above.
Find where it says 1. Select a computer. In that drop down box pick the device you are forwarding these ports to. This list contains a list of all the devices that are visible on your home network.
Click the link that reads Add a new user-defined application and you will be taken to the following page: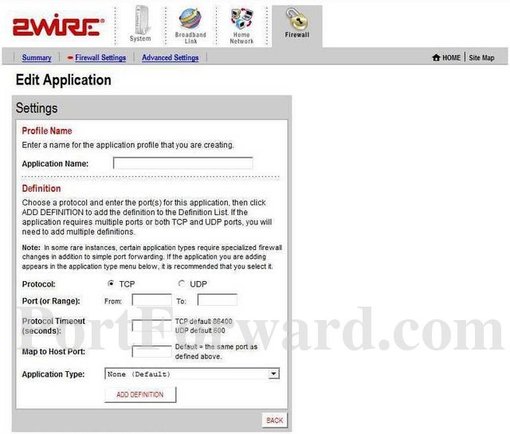 Step 4
If you are on the page you see above, then congratulations! It is time to enter some data into your router. To show you exactly what to enter in your router you need to answer the following 2 questions:
| | |
| --- | --- |
| Application | : |
| IP Address | : |
(NOTE: The IP Address above needs to match the static IP Address you setup in step 1)
This next section is our router simulator. Depending on what you chose above the information below changes. Currently we are showing the ports for XBox Live. Simply fill out the boxes in your router as you see them below:
Click the Back button in the lower right corner of the page.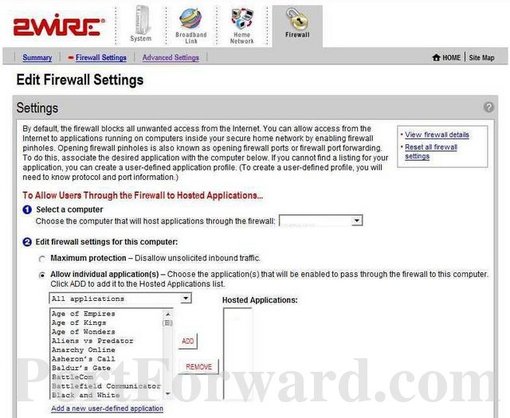 Now use the Applications box on the left to pick the names of the applications you just created, then hit the Add button to move them to the Hosted Applications box.
When you are finished, click the Done button near the bottom of the page.
Test if Your Ports are Open
After you have finished forwarding the ports on the 2wire 2701HG router you need to test them in order to see if the ports were forwarded correctly.
To check to see if the ports have been properly opened on the 2wire 2701HG router we recommend using our Network Utilities with the free Open Port Checker. This Open Port Checker is the only one online that has Guaranteed Results. Learn more about how to check for open ports here.
More Info
We have more resources for you if you are interested: