This Asus RT-AC68W router uses a firewall to help protect your home network from potential threats coming from the Internet. It does this by blocking all incoming and outgoing connections that are not authorized. This explains why sometimes when you are playing an online game or using an online application it does not run as smoothly as you think it should. Some of the connections may be being blocked by your firewall. To fix this frustrating problem you need to open the game or application's ports. This is called a port forward.
In this guide we will be showing you how to create a port forward on the Asus RT-AC68W router. We will walk you through each of the following steps:
How to setup a static IP address on the device you plan on forwarding these ports to.
How to login to the Asus RT-AC68W router.
How to find the port forwarding section of your router.
Then we will show you how to create a port forward on this router.
We think that forwarding a port should be easy. That's why we created Network Utilities. Our software does everything that you need to forward a port.
When you use Network Utilities you get your port forwarded right now!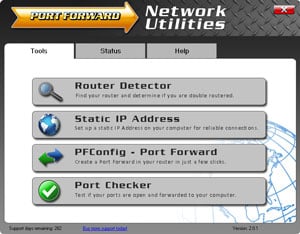 Step 1
It is important to setup a static ip address in the device that you are forwarding a port to. This ensures that your ports will remain open even after your device reboots.
Recommended - Our free Static IP Setter will set up a static IP address for you.
Another way to get a permanent IP address is to set up a DHCP reservation.
Or, manually create a static ip address with our Static IP Guides.
This step is important because you want a permanent IP address in your device. If you do not set up a permanent IP address in your device, then when you device reboots it may get a new IP address.
Step 2
It is now time to login to the Asus RT-AC68W router. Your router uses a web interface which means you need to login using a web browser. It doesn't matter which browser you decide to use, simply pick your favorite. Some of the more common options are Chrome, Internet Explorer and Firefox.
Once you have picked the web browser, go ahead and open it. Then look for the address bar. This is normally at the top of the page:

Above is an example of what a web browser address bar looks like. Find the address bar in your router and type in your router's IP address.
The default Asus RT-AC68W IP Address is: 192.168.1.1
If the above address did not work or you know you changed the router's IP address in the past and don't remember what you changed it to, you need to find out what the IP address is. Follow the instructions on this How To Find Your Router's IP Address page.
After entering the router's IP address in the address bar just click the Enter key and you should be shown the following page: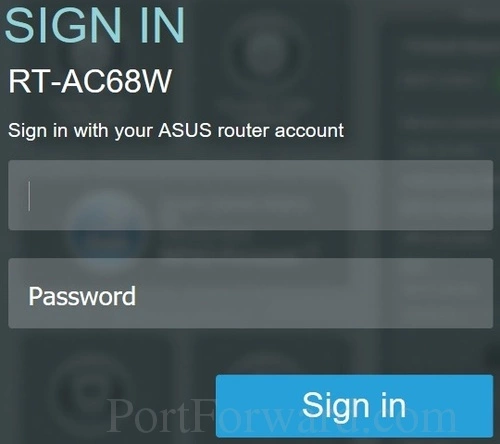 Enter the username and password into the appropriate boxes and click the blue Sign in button to gain access to the Asus RT-AC68W management pages.
The Default Asus RT-AC68W Router Username is: admin
The Default Asus RT-AC68W Router Password is: password
Can't Login?

This is a common place for folks to get stuck. Here are a few options to try:

First, we strongly recommend trying other Asus usernames and passwords. It's possible you have a different firmware version and with that could be a different username and/or password. Here is our list of Default Asus Router Passwords.
If that first option did not work, it is because you changed the username and password in the past and don't remember what you changed it to. Why not trying to guess what you changed it to? We recommend using our Find Password App to help. It automates the process for you. Learn all about it on this Router Password Cracker page.
Finally if both the above ideas did not work it might be time to consider a reset. A factory reset like this is a big step and should not be taken lightly. Everything you have ever changed is erased. Learn more about resetting the Asus RT-AC68W router on this How to Reset a Router page.
Step 3
It is now time to find the port forwarding section of the router. We begin on the Network Map page: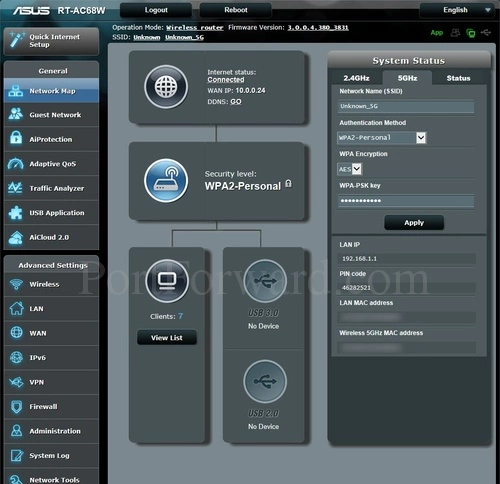 On this page look in the left sidebar and click the option of WAN.
Now look at the top of the page. Click the tab labeled Virtual Server/Port Forwarding.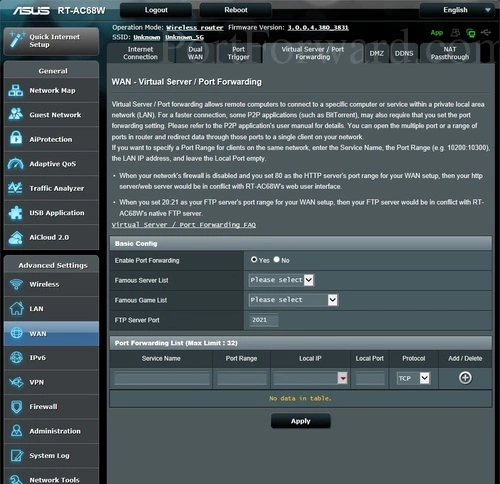 This is the port forwarding page. Make sure to click the Yes radio button next to Enable Port Forwarding.
Step 4
Here are the ports to forward for Xbox Live:

TCP Ports:

3074

UDP Ports:

3074

If you are looking for the ports for a different application you can find it by either:
You need to name this entry in the Service Name box. The name does not make any difference in the forward; it's just there so that you can remember later why you setup this forward.
Put the ports to forward into the Port Range box.
You can enter the ports as a list separated by commas, a range separated by hyphens, or a combination of both.
Enter the IP address to forward these ports to into the Local IP box. If you are forwarding ports so you can run a program on a device other than your computer then you can enter your device's IP address into that box.
From the Protocol box select the protocol for the ports that you want to forward.
When you are finished, click the + button.
When you are completely finished don't forget to click the Apply button to save the changes.
Testing The Ports
Did the port forward work? It is always a good idea to check your work when you have finished. To do this we recommend using our Open Port Checker. It is FREE and part of our trial version of the Network Utilities. Our port checker is better than the others you find online because we use a local application to see if the ports are open or not. This guarantees a open port verification.
Additional Info...
We also recommend checking out our huge selection of free guides. From networking to gaming, portforward.com is your information source.
Are you looking for guides about setting up your router? Check out setuprouter.com for how to setup your router the right way.