All D-Link DI-514 routers include a basic firewall that helps protect your home network. A firewall is designed to block incoming connections and sometimes you want a couple of these connections opened for a game or application. This process of opening a port is commonly called a port forward because you are forwarding a port through the firewall directly into your home network.
The steps involved in opening a port are:
Setup a static IP address on the device you want to forward your ports to.
Login to your D-Link DI-514 router.
Navigate to the port forwarding section.

Click the Advanced button.
Click on Virtual Server.

Make a port forward rule or entry.
While these steps might seem difficult at first, we will walk you through every step for your D-Link DI-514 router.
We think that forwarding a port should be easy. That's why we created Network Utilities. Our software does everything that you need to forward a port.
When you use Network Utilities you get your port forwarded right now!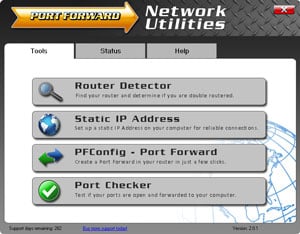 Step 1
It is important to setup a static ip address in the device that you are forwarding a port to. This ensures that your ports will remain open even after your device reboots.
Recommended - Our free Static IP Setter will set up a static IP address for you.
Another way to get a permanent IP address is to set up a DHCP reservation.
Or, manually create a static ip address with our Static IP Guides.
This step is important because you want a permanent IP address in your device. If you do not set up a permanent IP address in your device, then when you device reboots it may get a new IP address.
Step 2
It is time to login to the D-Link DI-514 router. This router has a web interface, so you need to login to it using a web browser. This can be Chrome, Internet Explorer, or just about any other web browser you can think of. It usually doesn't matter what browser you decide to use.
Once you open the web browser of your choice you need to locate the address bar. It looks like this:

Above is an example of what a web browser address bar looks like. Find the address bar in your router and type in your router's IP address.
The default D-Link DI-514 IP Address is: 192.168.0.1
If you have changed the IP Address of your router and have forgotten what it is, check out this Router IP Address guide to help you obtain it.
After entering the router's IP Address, just click the Enter key. If all went as it should have you will see the image below: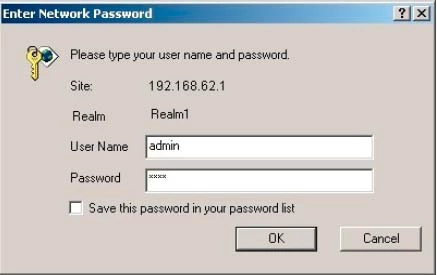 You should see a box prompting you for your username and password.
The Default D-Link DI-514 Router Username is: admin
The Default D-Link DI-514 Router Password is: blank(no password)
Once you have entered the password, click the OK button to access the router user interface.
Dlink Usernames and Passwords

If the username and password did not work then we strongly recommend trying other common D-Link usernames and passwords. Visit our Default D-Link Router Passwords page.

If you still can't login to the D-Link DI-514 router it is most likely you changed the username and password in the past and have forgotten what they are. We have a Find Password App that helps you find a lost password on your home network.

As a last resort, if nothing seems to work then it may be time to consider a reset. A reset will erase all personal data on your router so we advise trying other troubleshooting options first. If you believe a reset is your only course of action left, check out our How to Reset a Router guide.
Step 3
It is now time to find the port forwarding section of your router. To do that let's start from the home page.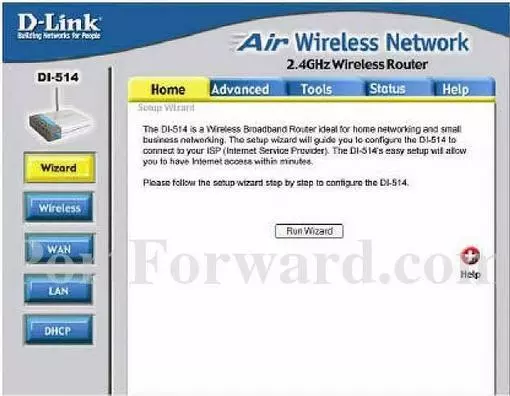 Click the blue Advanced tab at the top of the page.
Now, look at the left sidebar. Some new options have appeared. Select the link titled Virtual Server.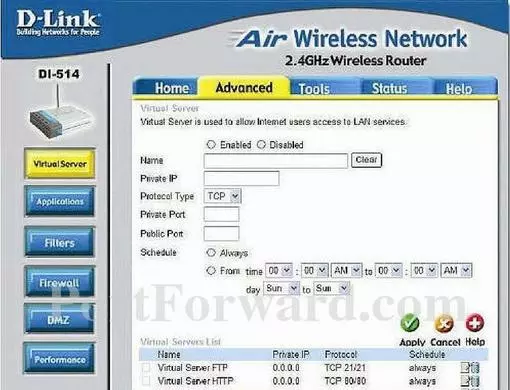 Step 4
Here are the ports to forward for Xbox Live:

TCP Ports:

3074

UDP Ports:

3074

If you are looking for the ports for a different application you can find it by either:
Put a dot into the Enabled radio button.
You need to name this entry in the Name box. The name does not make any difference in the forward; it's just there so that you can remember later why you setup this forward.
Enter the IP address that you want to forward these ports to in the Private IP box. You can enter either the IP address of your computer or the IP address of another computer or device on your network.
The protocol that you want to forward is selected from the Protocol Type box.
Enter the port to forward into the Private Port and the Public Port boxes.
Enable the Always radio button.
Click the Apply button when you are finished.
Most people will never need to use this, but I'm going to explain why they have Private Port and Public Port here.
The Private Port and Public Port entries are actually rather useful. They are there so you can direct traffic at two devices on your network.
Let's say that you have two devices running Ftp servers on your network. Let's call these devices device one(192.168.0.1) and device two(192.168.0.1).
Let's also say both these ftp servers are running on port 21. Okay we setup your router to forward port 21 to device one(192.168.0.1:21).
So every external IP address request from ftp goes to device one. How do we get to the second device? Well the Private Port and Public Port entries allow us to specify another outside port to connect to our internal port 21. Lets make the additional port, port 30. We would now setup a rule in the router with the Public Port set to 30 and the Private port set to 21. The IP address in that rule would be 192.168.0.1. So when you wanted to ftp to device two you would specify port 30 in your ftp client.
The router would see these requests coming in on port 30 and forward them to (192.168.0.1:21). This would allow you to ftp to both devices.
Don't forget to click the green Apply button after each entry is finished.
Test if Your Ports are Open
Once you have finished forwarding the ports on the D-Link DI-514 router you should test them to be sure they were forwarded correctly. To do this we recommend using our free Open Port Checker. This is included in our Network Utilities tool. Our Open Port Checker is the only one online that has Guaranteed Results. Learn more in our guide titled How to Check for Open Ports.
More Info