In this guide we will be showing you how to properly port forward or create an open port on the Netgear DG834 router. This router has a very basic firewall that helps to protect your home network from unwanted access from the Internet. A firewall is designed to do this by blocking connections to and from your home network. Some connections, of course, need are automatically unblocked for you to be able to use the Internet.
There comes a time when you want some of these connections that are blocked to be unblocked, whether for a computer application or a game. This process of unblocking a connection is called a port forward because you are forwarding a port through the firewall directly to a device on your home network.
The basic process to open a port for the Netgear DG834 router is:
Setup a static ip address on the specific device that you want to forward a port to.
Login to your Netgear DG834 router.
Navigate to the port forwarding section.
Make a port forward rule.
Keep reading, we will walk you through every step in the process to get your ports opened for the Netgear DG834 router.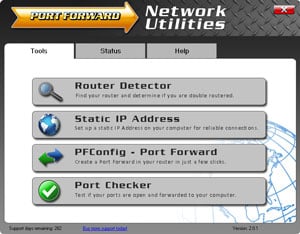 We think that forwarding a port should be easy. That's why we created Network Utilities. Our software does everything that you need to forward a port.
When you use Network Utilities you get your port forwarded right now!
Step 1
It is important to setup a static ip address in the device that you are forwarding a port to. This ensures that your ports will remain open even after your device reboots.
Recommended - Our free program will setup a static IP address for you.
Download Network Utilities today!


Or follow our Static IP Address guide to setup a static IP address.
Step 2
It is now time to login to the Netgear DG834 router. This router has a web interface, meaning to login to your router settings you need to use a web browser. This can be Chrome, Firefox, Edge, Internet Explorer or any other web browser you would rather use.
After opening the web browser, look for the address bar. This is normally at the top of the page like this:

192.168.0.1
Do you see the address bar in the image above? Simply replace what is in this bar with the Netgear DG834 router's IP address. Don't forget the router's IP Address can also be called the computer's default gateway.
---
---
By default the Netgear DG834 router has the IP Address of: 192.168.0.1
---
---
Now that you have typed in the router's IP Address, simply click the Enter key on the keyboard. This takes you to the following page: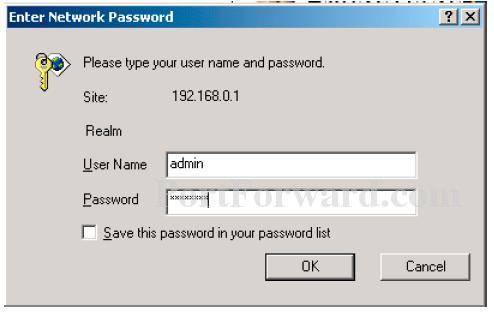 You are in the right place if you see a place to enter a username and password.
---
---
The default Netgear DG834 router username is: admin
The default Netgear DG834 router password is: password
---
---
Once you have entered the username and password click the OK button to access the web interface for the Netgear DG834 router.
Netgear Usernames and Passwords
If the username and password did not work we recommend you try other Netgear usernames and passwords. Check them out here on our Default Netgear Router Passwords page.
If you are still unable to login you probably changed the username and/or password in the past and have forgotten. Before you resort to resetting your router why not give our Find Password App a try. It helps to recover forgotten passwords on your home network.
Step 3
The following image should be the first page of your router. To forward a port simply continue on to step 4.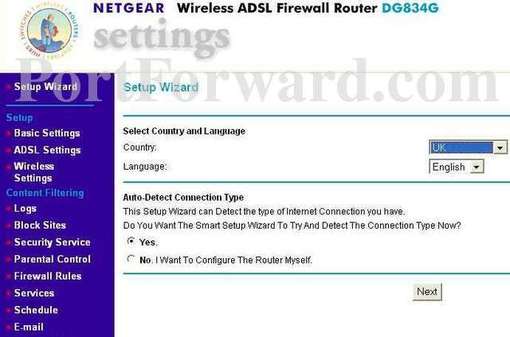 Step 4
Now we are ready to enter some data in your router. In order to show you exactly how to configure your router we need you to answer 2 questions:
| | |
| --- | --- |
| Application | : |
| IP Address | : |
(The IP Address to forward to should be the same "static ip address" that you setup above)
Our router simulator shows you exactly what data to enter in your router based on your choices above. We are currently showing the ports for XBox Live. You should fill out the boxes in the router as you see them here:
Congratulations, you did it!
Test if Your Ports are Open
After you have finished forwarding the ports on the Netgear DG834 router you need to see if the ports forwarded correctly. We recommend using our FREE Open Port Checker in our Network Utilities. This Open Port Checker is the only one online that has Guaranteed Results. Learn more about how our free Open Port Checker works.
More Info
Congratulations on forwarding your ports. Here are some more guides you may like: