Use this guide to help you port forward the Technicolor TG582n router.
There are lots of different reasons you may need to port forward a game or application:
game or application crashes when online
trouble playing with friends
game or application lags
continually disconnects when online
Does any of this sound familiar? If it does you should definitely consider a port forward. A port forward takes a port or group of ports and forwards them through your firewall directly to a device on your local home network.
We will walk you through each of the following steps:
Setting up a Static IP address on the exact device you plan on forwarding these ports to
Logging into your Technicolor TG582n router.
How to find the port forwarding section in your router.

Click the Toolbox button.
Click the Game & Application Sharing link.
Click the Create a new game or application link.
Enter a name in the Name box.
Click the Manual Entry of Port Maps radio button.
Click the Next button.

Exactly what information needs to be inputted into your router to create a port forward.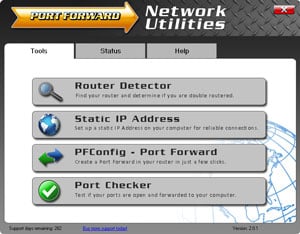 We think that forwarding a port should be easy. That's why we created Network Utilities. Our software does everything that you need to forward a port.
When you use Network Utilities you get your port forwarded right now!
Step 1
It is important to setup a static ip address in the device that you are forwarding a port to. This ensures that your ports will remain open even after your device reboots.
Recommended - Our free program will setup a static IP address for you.
Download Network Utilities today!


Or follow our Static IP Address guide to setup a static IP address.
Step 2
When logging into your Technicolor TG582n router you need to open a web browser. It doesn't matter which one you pick, just pick the one you used to find this website if you want.
Here are some common web browsers:
Internet Explorer
Chrome
Edge
Opera
Simply open the browser of your choice and find the address bar. It is normally located at the top of the page like this:

192.168.1.254
We have circled the address bar for you in the image above. All you need to do is replace what is in this bar with the router's IP address. This address is also called the default gateway.
If you have changed the IP address in the past and you don't know what you changed it to, you need to open up the command prompt on your computer and locate the Default Gateway. To do this follow the instructions on this How To Find Your Router's IP Address page.
---
---
By default the Technicolor TG582n IP address is: 192.168.1.254
---
---
After entering the proper IP address or default gateway into the address bar, click the Enter key. You should be taken to the Login page of your router's web interface.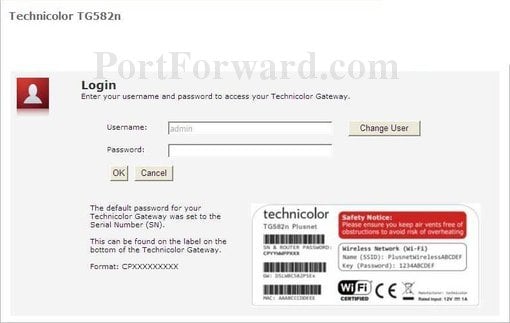 If you have not changed the router's password in the past, you can find it on the router's label. If you have changed the router's password in the past, enter that password in the appropriate box.
Trouble Logging In?
If you are unable to get past the login screen there are a couple things you can try:
If the default password found on the router's label did not work, then it is because you have changed it in the past and have forgotten what you changed it to. We recommend using our Find Password App to help figure out what you changed the password to. Learn more about this on our Router Password Cracker page.


If the password cracker did not work, it might be time to consider a reset. A factory reset like this one erases all personal changes you have ever made to the router. We do not recommend this course of action until you have exhausted all other troubleshooting possibilities. leran more about resetting a router on this How to Reset a Router page.
Step 3
After you have finished logging into the Technicolor TG582n router it is time to find the router's port forwarding section. We start on the Home page: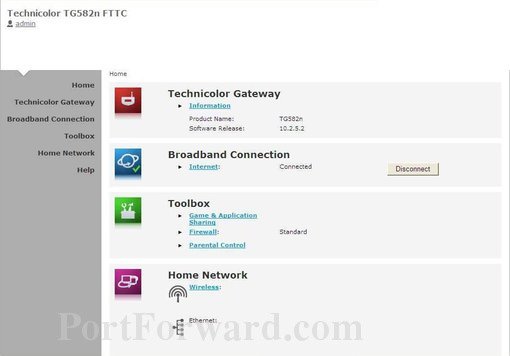 Click the Toolbox link in the left sidebar.
---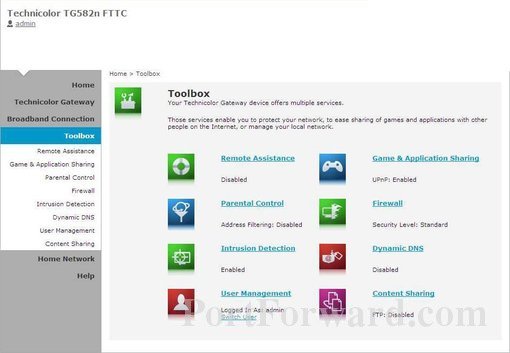 Do you see the new set of choices that appeared? Click the new option of Game & Application Sharing in the left sidebar.
---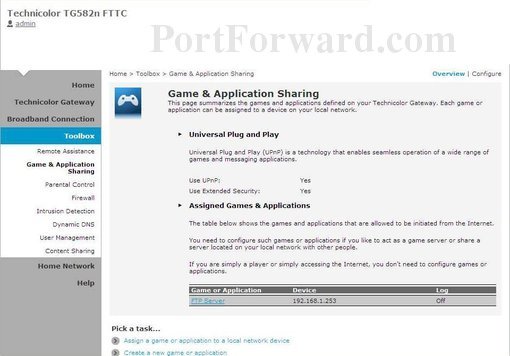 You should now see an image similar to the one above. Select the blue link near the bottom of the page labeled Create a new game or application.
---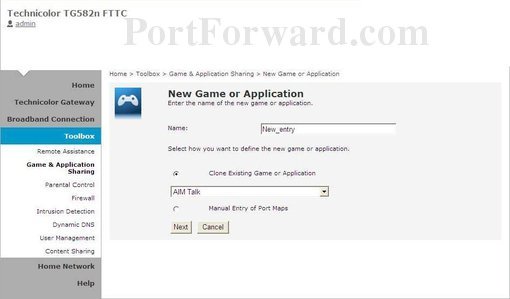 On this new page, enter the name of the program you are forwarding these ports for in the box labeled Name. It doesn't really matter what you enter in this box, it could be anything, but we recommend entering something that reminds you why you forwarded these ports.
Then put a dot in the radio button labeled Manual Entry of Port Maps.
Finally, click the Next button at the bottom of the page.
---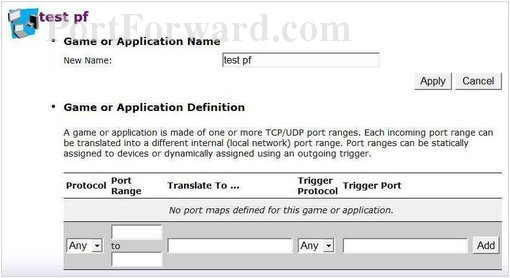 If you have arrived at the page you see above, you are in the right place to create a port forward.
Step 4
To show you exactly what data to enter in your router we need a little more information from you:
| | |
| --- | --- |
| Application | : |
| IP Address | : |
(The IP address above needs to match the static IP address you setup earlier in Step 1)
This next section of our guide is the router simulator. Based on the information you gave us above we will show you exactly what to enter in the router. Right now we are showing the ports for XBox Live. If this is correct, just fill in the boxes in your router exactly as they are below:
Now, click the blue Assign a game or application to a local network device link near the bottom of the page.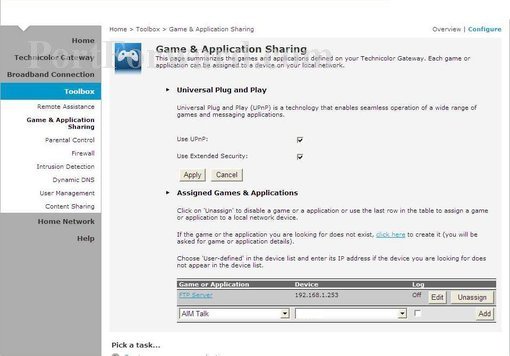 Using the Game or Application drop down list, pick the name you created earlier from the drop down list.
Now, use the Device drop down box to pick the device you want to forward these ports to.
(This should be the device you setup a Static IP address for in step 1.)
Finally, click Add to enable your port forward.
That's it, you just forwarded a port!
How to Tell if Your Ports Opened
After you have finished forwarding the ports on the Technicolor TG582n router you need to test them to see if they forwarded like they were suppose to.
To test your ports we recommend using our Open Port Checker in our Network Utilities free trial. Our port checker uses a local application to listen for your ports. This way we can confirm that your port is forwarded.
More Info
If you have additional questions, please check out our forum. Your question may be already addressed there, and our forum has a lot of knowledgeable people ready to help you get your ports forwarded.
Check out some of our other guides here.
For more information on setting up a router check these guides out on our Setuprouter.com website.