Lately a number of our users who browse the web with Google Chrome have reported that our software is getting flagged as malware. We want to make something very clear.
Our software is not malware and Chrome is wrong!
What is happening is called a False Positive. Chrome is detecting us as malware even though we are not.
Our software is not devious, deceptive, or in any way intended to do things without your permission or knowledge. Our goal is to provide you with useful tools to fix your computer problems, not make them worse.You can be assured that our software is safe by scanning it with any number of free virus scanning tools.
Proof our Software is Safe
The best way to prove that our software is safe is to have you run antivirus scans on it. You can do this for free using various online scanners like VirusTotal.com or Anubis.
For example, here is a direct link to the scan results for one of our products, PF Port Checker. You should be able to scan it and see that it is 100% safe. Last time we ran this scan it had a detection ratio of 0/51, meaning 0 problems in 51 antivirus engines. Here's a screenshot:
Virus Total Scan Result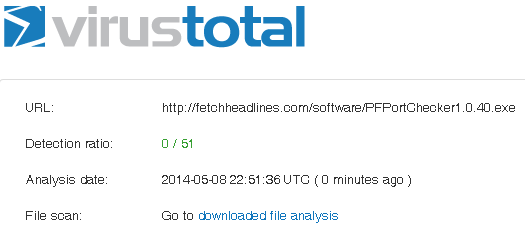 In addition, the Anubis scanner ran a detailed breakdown of exactly what our product does including registry keys affected, DLL's loaded, and a bunch of other high tech analysis. You can see their results in this link.
Just to summarize the clean scan reports, here are the two links:
51 out of 51 virus scanners think we're just fine. This should be proof enough that the software is clean and safe. Now let's look at the Chrome download bar.
Chrome Download Results

Despite all of these antivirus and antimalware softwares saying that this software is fine, Chrome seems to still think that there is a problem. Clearly Google is wrong.
We Should Tell Google/Chrome
We've been trying to tell the Google Chrome team about this problem for a while, but they don't seem to listen. There are numerous reports online of other small vendors suffering the same malware warnings and not being able to get anyone at Google to care. Here's a few examples:
There are plenty of people trying to tell Google, but the Chrome team isn't listening.
Use Webmaster Tools to Request a Review
We have been told numerous times to use Google Webmaster Tools and request a review under the "Security Issues" tab. We've been there, the "Request a Review" button isn't there because Google hasn't flagged us as having malware. Yes, you read that right, we cannot request a review because we are not flagged. Someone should tell the Chrome team.
Here's a screenshot of our Google Webmaster Tools console (sorry, it's too big to embed). Notice the text:
Currently, we haven't detected any security issues with your site's content. If you want to learn more about security issues and how they could affect your site, review our resources for hacked sites.
What You Can Do
You can download our software with Firefox or Internet Explorer, or you can turn off Chrome's flawed malware protection. If you want to download our software with Chrome then you will need to turn off Chrome's built in malware protection. To do that, take the following steps:
Click the Chrome menu button at the top-right of the Chrome window.
Choose "Settings"
Click the link near the bottom that says "Show advanced settings..."
Uncheck the box that says "Enable phishing and malware protection"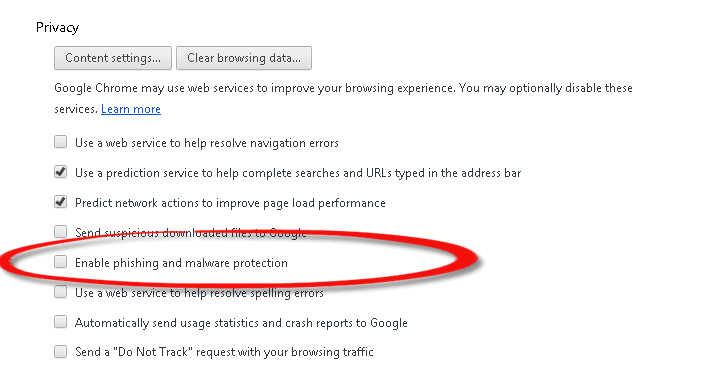 Final Thoughts
We hope that you understand why we are writing this guide. We are forced to deal with this because Chrome has released a security patch that is flagging known good software as malware using their new engine. The only thing the we can do as a company is send them samples of our product and hope that they add it to their exception list. We are doing that right now, and hopefully this problem will go away in a few weeks. The only thing that you can do as a customer is follow the guide above. Oh, and you can use open source software like Firefox.
If you have any questions feel free to contact me using any of the links below.