What is VNC?
VNC is a remote control software package that enables us to administrate your computer from our computer. We use VNC when all other methods of supporting your router have failed.
Is it Safe?
What we want to do is safe, but you have a right to be suspicious. We will have complete control over your computer during the VNC connection. However, you will be able to see every action that we take so you can know that we are only working to solve your problem, and not digging into your personal information. You can also disconnect us at any time you like, and we cannot, under any circumstances, connect to you. The setup we use requires you to initiate the connection to us.
How Can I Trust You?
You will be able to watch us work on your computer by watching your screen. We are not interested in breaking into your computer or stealing your data. We are are a decent and honest company and we have no desire to ruin our reputation with tricks like that. Portforward is run by a small group of dedicated computer professionals: Dave, Jason, Tedie and Allen. We are not some mega corporation out there with no regard for our customers' privacy. With that said, if you are uncomfortable with this, then please do not do it. We want to help you, not make you uncomfortable.
Instructions For Getting VNC Up and Running
1.) Download UltraVNC. UltraVNC is a free, open source project made for exactly this sort of thing. You can download it by clicking here.
2.) Install UltraVNC on the computer that you want us to connect to. Simply run the file that you downloaded above and UltraVNC should install just fine. You can accept all of the default installation options, except on the page that allows you to choose to "Register UltraVNC Server as a system service". We want you to check this box like in the picture below.
3.) Now we want to launch UltraVNC Server. Click on Start, All Programs, UltraVNC, Launch UltraVNC Server.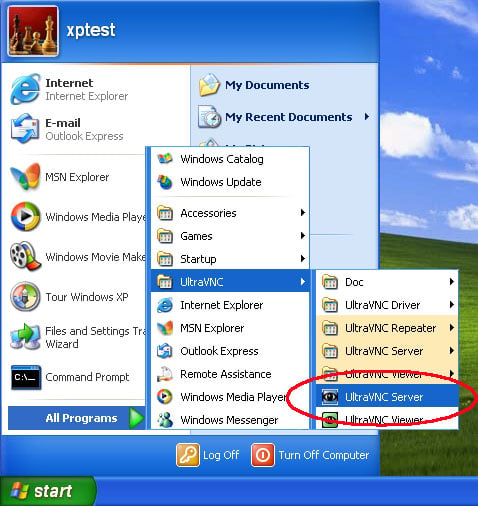 You should see a window called "WinVNC Server: Current User Properties". In the group called "Authentication" you will want to put a VNC Password. It does not matter what you put here because we will not be using it, but VNC will complain if you don't fill one in. The screen looks like this.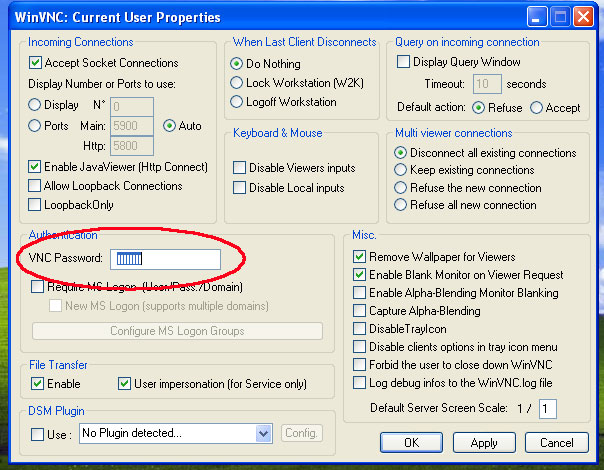 After you click Ok, the window above goes away, and you have a new icon next to your clock that looks like a eye. Right click on the eye icon and choose "Add New Client..."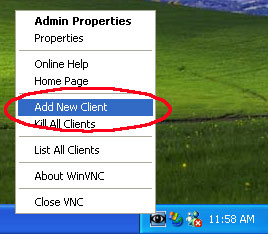 You should get a window called "Initiate Outgoing Connection (Add New Client)" that looks like this.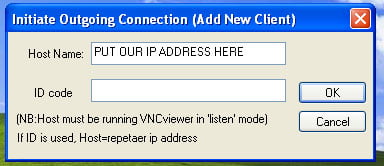 We will have given you an IP address to type into the window above. Type in the IP address and click Ok and we should be connected. You will see us moving your cursor around. You can tell when we are connected because the eye icon near the clock will have a green background. When we are not connected, the eye icon will have a blue background.
Green eye = We are connected

Blue eye background = We are not connected

Once we are connected we will immediately begin working on supporting your router. This may take a while because some routers are very hard. Please be patient and allow us to work. Please do not touch your keyboard or mouse while we are working as this will interfere with what we are doing.