Your Apple AirPort Extreme router has a basic firewall included that helps protect your home network from any unwanted access to the Internet. This firewall is blocking incoming connections from the Internet. Sometimes you want these connections unblocked to run a program or game smoother. This is called a port forward because you are forwarding a port through the firewall and directing it at a device on your local home network
We will be showing you how to:
Setup a static ip address on the device you plan on forwarding these ports to.
Login to your Apple AirPort Extreme router.
Find the port forwarding section.

Click the Applications button.
Click the Utilities button.
Click the AirPort Admin Utility button.
Select Apple Base Station from Select Base Station.
Click the Port Mapping button.
Click the Add button.

Create a port forward.
While all this may sound difficult, we plan on walking you through each step in the process.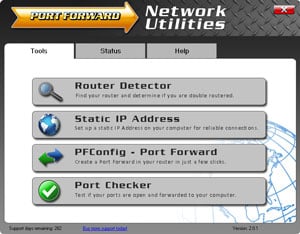 We think that forwarding a port should be easy. That's why we created Network Utilities. Our software does everything that you need to forward a port.
When you use Network Utilities you get your port forwarded right now!
Step 1
It is important to setup a static ip address in the device that you are forwarding a port to. This ensures that your ports will remain open even after your device reboots.
Recommended - Our free program will setup a static IP address for you.
Download Network Utilities today!


Or follow our Static IP Address guide to setup a static IP address.
Step 2
Let's login to the Apple AirPort Extreme router. To do this let's start on the following page of your Mac: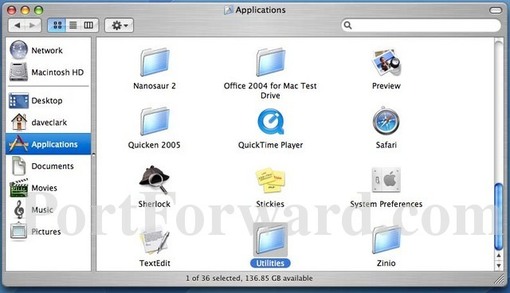 Open up the Finder on your Mac.
Then, click the Applications button in the left sidebar.
Next, select the option of Utilities in the center section of the page.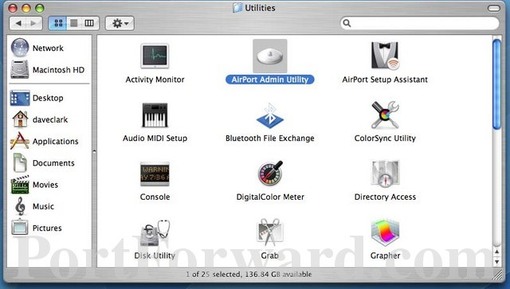 On the Utility page, choose the option of AirPort Admin Utility in the center section of the page.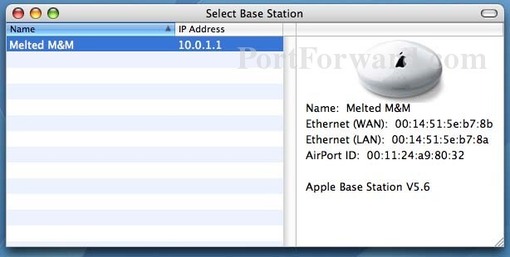 You should now see a page similar to the one above. There is a list titled Select Base Station. Under that heading is your list of base stations. Select the Apple Base Station you will be making changes on. This list will only contain one station name unless you have multiple Apple Base Stations.
Step 3
Now we need to find the port forwarding section in your router. Here's how you do it. Starting from the first page in your router: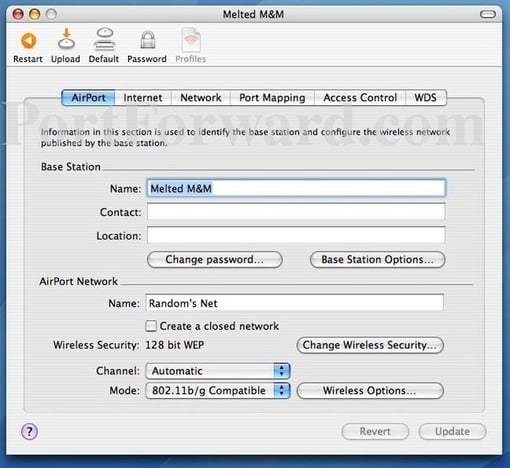 First, click the Port Mapping option near the top of the page.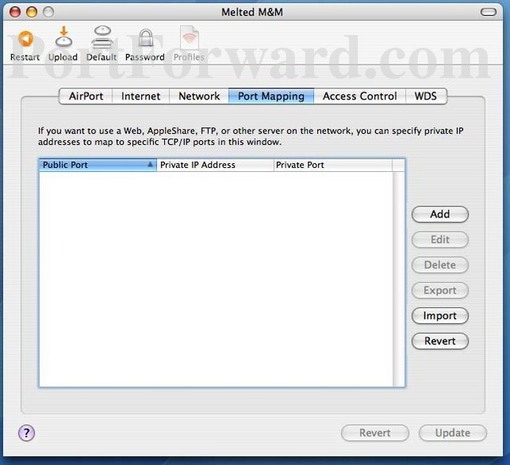 Then, click Add on the right side of the page.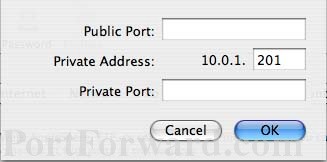 You should now see a box a lot like the one above.
Step 4
It is time to enter some data into your router to make a port forward. In order for us to show you exactly how to configure your router we need you to answer 2 questions:
| | |
| --- | --- |
| Application | : |
| IP Address | : |
(Remember the IP Address above should match the Static IP Address setup in Step 1)
Below is our router simulator section. This section shows you exactly what data to enter in your router based on how you chose above. Right now we are showing the ports for XBox Live.
Simply fill out the boxes in your Apple AirPort Extreme exactly as you see them below:
Click the OK button after each entry.
After you have finished entering the appropriate data, click the Update button at the bottom of the page to save your changes.
Are Your Ports Forwarded?
It is always a good idea to check your work. In order to find out if the Apple AirPort Extreme router forwarded the ports correctly we recommend using our free Open Port Checker. This is found in our free trial version of the Network Configuration Tools.
More Info
Congratulations on getting your ports forwarded! Here are some other guides you may like: