We have noticed that McAfee Antivirus and McAfee Security Center have flagged our newest version of PFConfig as a trojan. Our newest version is 1.0.276.
This is a false positive. PFConfig is not a trojan.
We are not that kind of company. We have way to good of a reputation online to risk ruining it with something like viruses. Our product scans clean on all other antivirus engines.
McAfee users have 2 options.
1.) You can install PFConfig version 1.0.251a (an older version), which the fine folks at McAfee are not afraid of. It will work fine for you. Most of the changes between that version and the newest version are to make troubleshooting easier for us. We'd much rather you used version 1.0.251a if you are uncomfortable about the big ugly warning from McAfee. You can download version 1.0.251a by clicking this link.
- or -
2.) You can follow our guide below to make McAfee act a little more sane.
The problem with McAfee lies in their "Artemis" engine, which is used to detect suspicious files that are not flagged as a virus.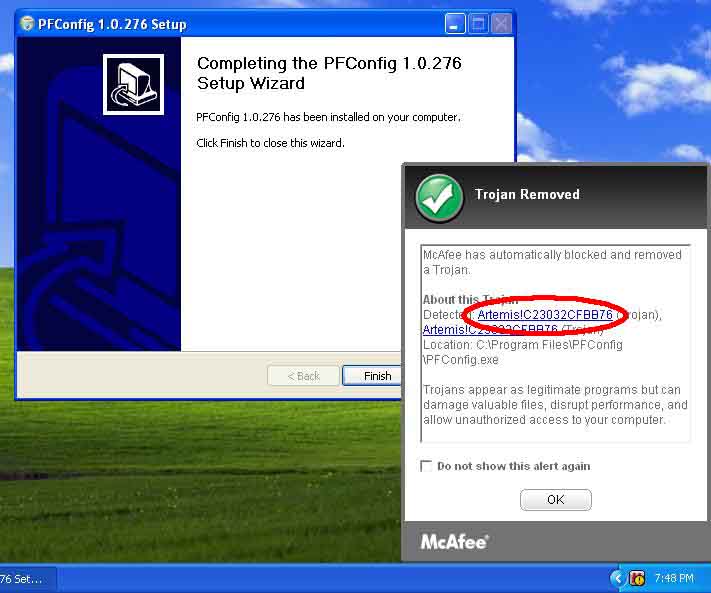 The Artemis engine seems to think that PFConfig version 1.0.276 (our newest) is not safe, while version 1.0.251a (our older version) is. We suspect this is because version 1.0.251a has been out there for so long, and version 1.0.276 is only a few weeks old. I guess we have to earn their trust. I am in contact with them and have submitted the newest version for them to evaluate.
How to Make McAfee More Sane
If you want to install PFConfig v1.0.276, then the steps below will fix McAfee so that you can. I like to think of this as making McAfee more sane, because the way it is detecting files out of the box is insane. Search the Internet for "McAfee false positive" and prepare for some reading. They are making a lot of false detections. They even tagged VNC as a virus recently. VNC has been in use in corporate America for over 15 years. Flagging that is just plain wrong!
First, open McAfee Security Center, and click on Advanced Menu.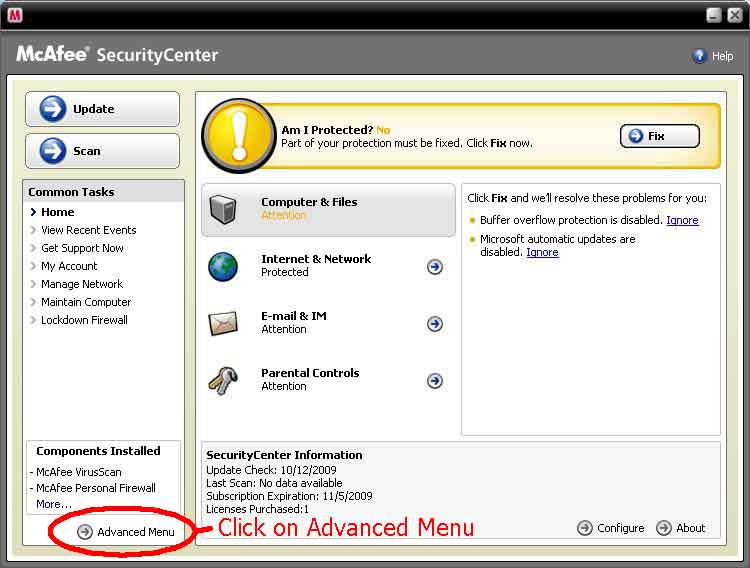 On the next screen click on
Configure
Computer & Files
The Advanced... button.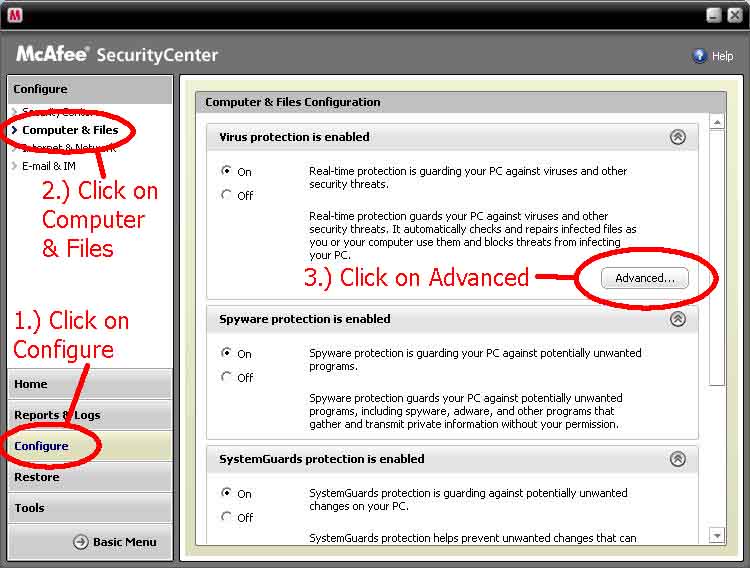 Finally, turn off the checkbox called Scan for unknown viruses. This will disable the Artemis scan engine that is causing all the problems for everyone. The rest of McAfee will work exactly the same. All known viruses will still be detected, and your computer will still be safe. This will just stop McAfee from detecting unknown viruses, which is the new Artemis engine.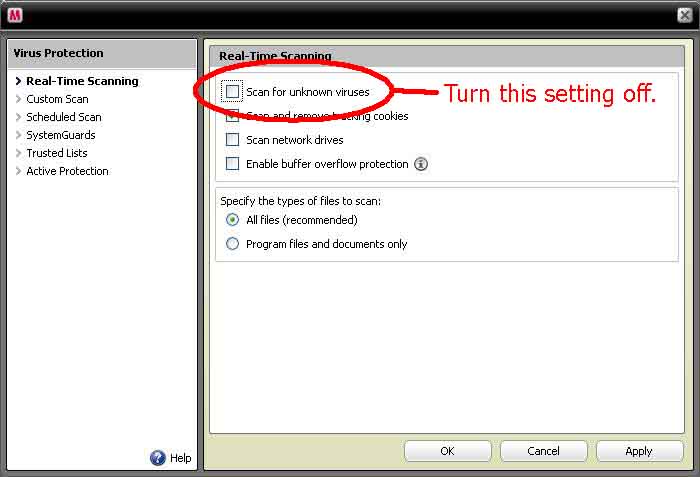 Final Thoughts
We hope that you understand why we are writing this guide. We are forced to deal with this because McAfee has released a security patch that is flagging known good software as a virus using their new Artemis engine. The only thing the we can do as a company is send them samples of our product and hope that they add it to their exception list. We are doing that right now, and hopefully this problem will go away in a few weeks. The only thing that you can do as a customer is follow the guide above. Oh, and you can vote with your wallet.
Norton and Symantec have a fine product that doesn't seem to think we're a virus. Same with AntiVir, Avast, AVG, BitDefender, ClamAV, F-Prot, Ikarus, Kaspersky, NOD32, Panda, Sohpos, and VirusBuster. We tested with all of them, and we're clean with all of them.