Your TP-Link Archer C7 v2 router comes equipped with a firewall that helps protect your home network from unwanted Internet access. The firewall does this by blocking all incoming and outgoing connections unless specified otherwise. In order to open some of these connections you need to create a port forward.
Port forwarding is not a difficult process if you follow our guide. We will walk you through each of the steps in order, including:
How to setup a static IP address on the device you plan on forwarding these ports to.
How to login to the TP-Link Archer C7 v2 router.
How to find the port forwarding section once you are in the router interface.
How to create the port forward for your game or application.
We think that forwarding a port should be easy. That's why we created Network Utilities. Our software does everything that you need to forward a port.
When you use Network Utilities you get your port forwarded right now!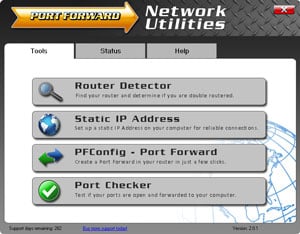 Step 1
It is important to setup a static ip address in the device that you are forwarding a port to. This ensures that your ports will remain open even after your device reboots.
Recommended - Our free Static IP Setter will set up a static IP address for you.
Another way to get a permanent IP address is to set up a DHCP reservation.
Or, manually create a static ip address with our Static IP Guides.
This step is important because you want a permanent IP address in your device. If you do not set up a permanent IP address in your device, then when you device reboots it may get a new IP address.
Write this static IP address down, you need it in Step 4.
Step 2
To login to the TP-Link Archer C7 v2 router you need to use a web browser. It doesn't matter which browser you decide to use, we recommend picking one you are the most comfortable using such as Chrome, Internet Explorer, Firefox, or Edge.
Open the web browser up and find the address bar. This is normally at the top of the page like this:

Above is an example of what a web browser address bar looks like. Find the address bar in your router and type in your router's IP address.
The default TP-Link Archer C7 v2 router IP address is: 192.168.0.1
If you have changed the router's IP address in the past then enter that IP address in the address bar. If you don't remember what you changed it to or the above default address did not work, you need to find out what you changed it to. We recommend following the directions on this How To Find Your Router's IP Address page.
After entering the correct IP address into the address bar, click the Enter key on your keyboard. This should give you an authentication page or box like this: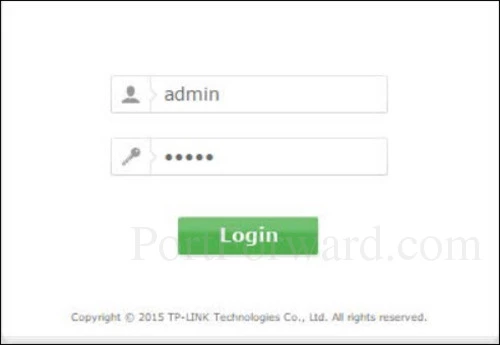 Enter the Username and Password and press the Login button or press the Enter key to access the router's interface.
The Default TP-Link Archer C7 v2 Router Username is: admin
The Default TP-Link Archer C7 v2 Router Password is: password
Can't Login?

This is a common place to get stuck. Here are a few things you can try if you find yourself here:

First, we recommend trying other TP-Link username and password combinations. If you have a slightly different firmware version of a TP-Link router you may also have a different username password combination. Here is our list of the Default TP-Link Router Passwords.
If that did not work, it is likely you changed the username and/or password in the past and don't remember what you changed it to. You can do a couple things here. One - try and guess what you changed it to (chances are this will work). Two - Let us help by automating the process for you. Use our Find Password App. It guesses thousands of different combinations for you. Learn all about it on this Router Password Cracker page.
Finally, and as a last resort, you may need to do a factory reset on the TP-Link Archer C7 v2 router. A factory reset is a big step and everything you have ever changed is erased. If you use DSL you may also need to contact your ISP for the login information for them. Be aware that a factory reset requires a full reconfiguration of your network. If you need to reset the TP-Link Archer C7 v2 router, learn how on this How to Reset a Router page.
Step 3
In this step we will show you how to find the port forwarding page of your TP-Link Archer C7 v2 router. To do this we begin on the Status page: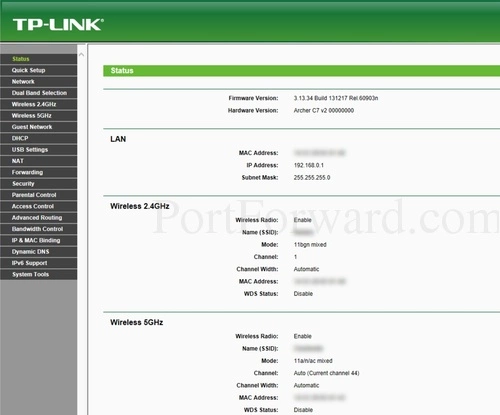 Click the Forwarding option in the left sidebar.
Under that, choose the new option of Virtual Server.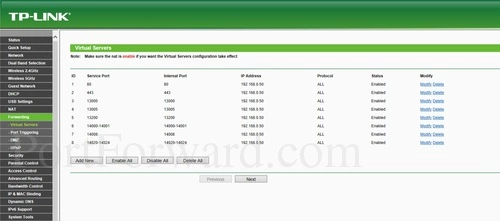 In the center section of the page, click the option of Add New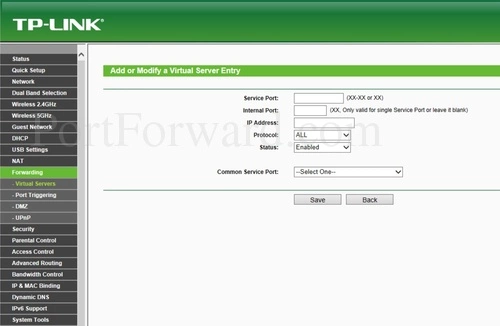 Congratulations you have made it to the correct page of the router. This is where you create a port forward.
Step 4
Here are the ports to forward for Xbox Live:

TCP Ports:

3074

UDP Ports:

3074

If you are looking for the ports for a different application you can find it by either:
Enter the same port number to be forwarded into the Service Port and the Internal Port boxes.
Enter the IP address that you are forwarding ports to in the IP Address box. This is either the IP address of a computer or the IP address of another device on your network.
Select the protocol type of the ports you are forwarding from the Protocol box.
Choose Enabled from the Status dropdown box.
Click the Save button when you are done.
Testing the Port Forward
How do you tell if your port forward went through as it was suppose to. You need to test it. There are a lot of different port checkers on the Internet. Most use the application you are forwarding the ports for to check if your ports are open. That works great except if you don't have that application yet. If this happens you get a false reading from the port checker.
Our Open Port Checker doesn't work that way. We don't assume you have a certain application on your computer. Our Open Port Checker uses a local application on your computer to see if the ports are open guaranteeing no false readings.
Additional Information
Don't forget you can always use our Port Forwarding Software. Our software makes port forwarding easy. We help you by troubleshooting, diagnosing and fixing all your port forwarding issues for you.
Check out our other networking and gaming guides here.
Need to setup your router? We can help make your router as secure as possible, check out our guides for your router at setuprouter.com.