You can use this guide to help you forward a port for the Netgear DGN2200 router. Your router has a basic firewall that helps protect your home network from the Internet. A firewall blocks incoming connections and sometimes you need these connections opened. This process of opening a connection or port is called a port forward because you are forwarding a port directly to a device on your network.
There are four steps involved in creating a port forward:
Step 1: Setup a Static IP Address on the device or game console you want to forward these ports to.
Step 2: Login to your Netgear DGN2200 router.
Step 3: Find the port forwarding section:

Click the Port Forwarding / Port Triggering link.
Click the Port Forwarding radio button.
Click the Add Custom Service button.

Step 4: Enter the correct data to create a port forward entry.
These four steps can seem daunting, don't worry, we will be walking you through each and every step of the process.
We think that forwarding a port should be easy. That's why we created Network Utilities. Our software does everything that you need to forward a port.
When you use Network Utilities you get your port forwarded right now!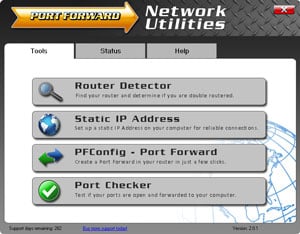 Step 1
It is important to setup a static ip address in the device that you are forwarding a port to. This ensures that your ports will remain open even after your device reboots.
Recommended - Our free Static IP Setter will set up a static IP address for you.
Another way to get a permanent IP address is to set up a DHCP reservation.
Or, manually create a static ip address with our Static IP Guides.
This step is important because you want a permanent IP address in your device. If you do not set up a permanent IP address in your device, then when you device reboots it may get a new IP address.
Step 2
This login step requires you to open a web browser because the Netgear DGN2200 router uses a web interface. It doesn't matter what web browser you choose to open, just pick your favorite. Some examples of common web browsers are:
Chrome
Edge
Internet Explorer
Firefox
Go ahead and open up that web browser and find the address bar. It will look like this:

Above is an example of what a web browser address bar looks like. Find the address bar in your router and type in your router's IP address.
The default Netgear DGN2200 IP Address is: 192.168.0.1
After entering the router's IP Address click the Enter button on your keyboard. This should take you to the following page: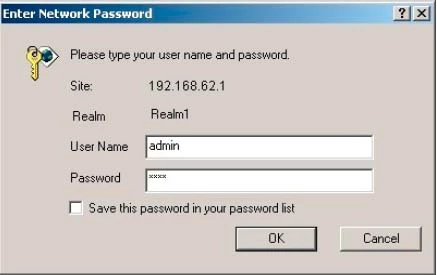 Do you see a box asking you for a username and password? All you need to do is enter the username and password associated with the Netgear DGN2200 router.
The Default Netgear DGN2200 Router Username is: admin
The Default Netgear DGN2200 Router Password is: password
Enter your username and password, and then click the OK button to log in to your Netgear DGN2200 router.
Having Trouble?

If you are unable to login to the Netgear DGN2200 router, we recommend trying some other common default usernames and passwords. Check them out here on this Default Netgear Router Passwords page.

Still can't login to the Netgear DGN2200 web interface? How about trying our Find Password App. It automates the process of recovering a lost or forgotten router password on your home network.

As a last resort, if nothing else works it might be time to consider a router reset. A router reset erases all changed settings including the username and password. If this is something you are considering read our How to Reset a Router guide. Remember a reset should only be considered after all other options have been exhausted.
Step 3
It is time to find the port forwarding section of your router. To do that, let's start from the first page of your router: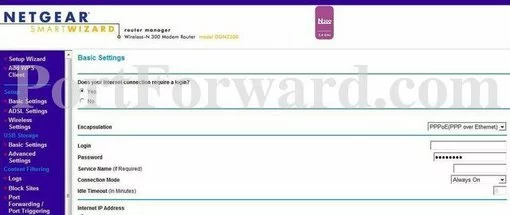 Start by clicking the Port Forwarding/Port Triggering option in the left sidebar.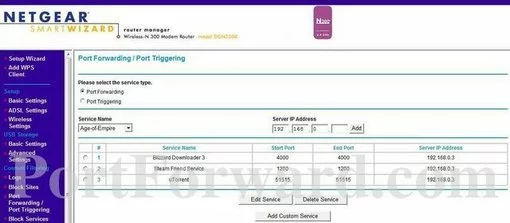 Next, fill in the radio button labeled Port Forwarding.
Then select the Add Custom Service button at the bottom of the page.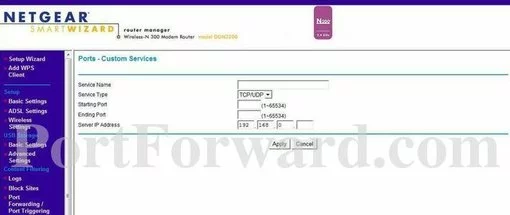 Step 4
Here are the ports to forward for Xbox Live:

TCP Ports:

3074

UDP Ports:

3074

If you are looking for the ports for a different application you can find it by either:
Make up a name to put in the Service Name box. The name does not have any effect on the functionality of the forward, it's simply there so you can know why it was created.
From the Service Type box select the protocol for the ports that you want to forward.
If you are forwarding a single port, enter that port number into the Starting Port and the Ending Port boxes. If you are forwarding a range of ports, enter the lowest number of that range into the Starting Port box. Then enter the highest number of that range into the Ending Port box.
Enter the IP address that you are forwarding ports to in the Server IP Address box. This is either the IP address of a computer or the IP address of another device on your network.
When you are done click the Apply button.
Click the Apply button after each entry.
Test if Your Ports are Open
Now that you have forwarded the ports for the Netgear DGN2200 router you should test them to see if they have been forwarded correctly. To test this we recommend using our free Open Port Checker. This is part of our Network Utilities tool. Our Open Port Checker is the only one online that has Guaranteed Results.
More Information
Here at portforward.com we have a lot of different guides you may be interested in, feel free to check them out: